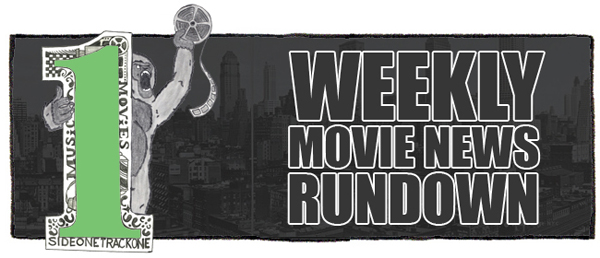 Time for your weekly movie news update!  Below you'll find a slew of sentences meant to provide a brief glimpse of what's been going on over the past week in movieland.  If something leaves you desperate for more info, then my advice is to do a little extra research on one or all of the following fantastic sites:  Latino Review, Dark Horizons, Ain't It Cool News, CHUD and/or JoBlo.  Read on!
Sofia Boutella (Kingsman: The Secret Service) has reportedly landed a major role in the Justin Lin-directed Star Trek 3.
An adaptation of Stephen King's The Dark Tower is being resurrected by Sony Pictures and MRC.  Ron Howard is no longer attached to direct, but he will produce the film along with Akiva Goldsman, Brian Grazer and Erica Huggins.
Warner Bros. is reportedly interested in having James Wan direct Aquaman.
Ryan Gosling is said to be in talks to star in Guillermo Del Toro's planed reboot of The Haunted Mansion.
Phil Lord and Chris Miller are currently working on a treatment for The Flash.  They have yet to sign on to direct the movie.
Brad Bird recently noted that he has begun working on a sequel to The Incredibles.
Universal reportedly wants Scarlett Johansson to star in their remake of The Creature From The Black Lagoon.
Daniel Radcliffe is set to star in Grand Theft Auto, which will detail the battle between Rockstar and activist attorney Jack Thompson.
Rumor has it that Sony would like to combine The Girl Who Played With Fire and The Girl Who Kicked The Hornet's Nest into one film. Then, if it's successful, adapt The Girl In The Spider's Web as the third movie in the series.
Olivia Wilde and Garrett Hedlund are officially set for Tron 3.
Warner Bros. is reportedly developing a female-led version of Logan's Run.
Ian McKellen will portray Cogsworth in Disney's live action Beauty And The Beast.
Eddie Redmayne is reportedly the front-runner to star in Fantastic Beasts And Where To Find Them.
Brent Spiner has signed on to reprise his role as Dr. Okun in Independence Day 2.
Hayden Christensen will star in Rob Cohen's Marco Polo.  As of now, it's just being described as a fantasy movie.
Spike Lee's next film is titled Chiraq.  No word yet on plot.
Vin Diesel and Chris Tucker have signed on for Ang Lee's adaptation of Billy Lynn's Long Halftime Walk.
Disney is set to develop a live action version of Pinocchio.
Francis Lawrence has signed on to direct a new adaptation of The Odyssey.  Peter Craig (Hunger Games: Mockingjay) wrote the script.
Kurt Russell and Dylan O'Brien may star alongside Mark Wahlberg and Gina Rodriguez in Peter Berg's Deepwater Horizon.
Dean Israelite (Project Almanac) will direct the upcoming Power Rangers movie.
Mark Millar is teaming with producer Lorenzo di Bonaventura on an adaptation of Jupiter's Legacy.  The comic follows offspring of superheroes who haven't lived up to the standards of their parents.
This Week's Notable Trailers