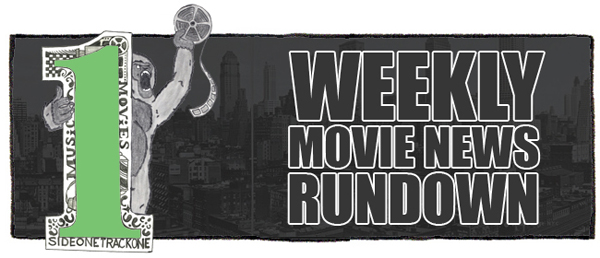 Time for your weekly movie news update!  Below you'll find a slew of sentences meant to provide a brief glimpse of what's been going on over the past week in movieland.  If something leaves you desperate for more info, then my advice is to do a little extra research on one or all of the following fantastic sites:  Latino Review, Dark Horizons, Ain't It Cool News, CHUD and/or JoBlo.  Read on!
Sony and Marvel have struck a deal that will allow for Spider-Man to join the Marvel Cinematic Universe.  It's rumored that the character will first appear in Captain America: Civil War.  A standalone movie is expected in 2017.  The search for a replacement for Andrew Garfield is currently underway, with Dylan O'Brien (Maze Runner) and Logan Lermen (Fury) being rumored as the front runners.  There's also speculation that Donald Glover is up for the role, which has led some to think that Marvel/Sony may opt to use the character Miles Morales over Peter Parker.
The addition of Spider-Man to the MCU has shaken up some release dates. Here's the new schedule:
May 1, 2015: Avengers: Age Of Ultron
July 17, 2015: Ant-Man
May 6, 2016: Captain America: Civil War
November 4, 2016: Doctor Strange
May 5, 2017: Guardians Of The Galaxy 2
July 28, 2017: Untitled Spider-Man Reboot
November 3, 2017: Thor: Ragnarok
May 4, 2018: Avengers: Infinity War – Part 1
July 6, 2018: Black Panther
November 2, 2018: Captain Marvel
May 3, 2019: Avengers: Infinity War – Part 2
July 12, 2019: Inhumans
Gina Carano (Haywire) has landed the role of Angel Dust in Deadpool.
Rumor has it that Joel Kinnaman (Robocop) is set to replace Tom Hardy as Rick Flagg in Suicide Squad.
Marion Cotillard will star opposite Michael Fassbender in the Assassin's Creed adaptation.
Universal has hired Dan Kunka to write a movie based on the game Space Invaders.
Dave Bautista (Guardians Of The Galaxy) is reportedly in talks to play The Kurgan in the upcoming Highlander reboot.
Eric Bana will play Uther, father of King Arthur, in Guy Ritchie's Kings Of The Round Table.  Charlie Hunnam is Arthur.
Matt Damon and Willem Dafoe are expected to star in The Great Wall.  Zhang Yimou (House Of Flying Daggers) will direct the movie about mercenaries who stumble upon the construction of The Great Wall and end up being attacked by mystical beasts.
Adam Shankman (Rock Of Ages) may direct Peter Dinklage in O'Lucky Day, which is said to follow a conman who may or may not be a Leprechaun.
Sam Taylor-Johnson is not expected to return for the Fifty Shades Of Grey sequels.
Luke Evans, Teresa Palmer and Alfred Molina may join the cast of Message From The King.  Chadwick Boseman is already set to star in the action-thriller.
Sam Witwer (Smallville) may replace Luke Evans in The Crow reboot.
Neil Blomkamp recently let it slip that Fox is interesting in making the Alien movie that he has been working on in his spare time.
This Week's Notable Trailers