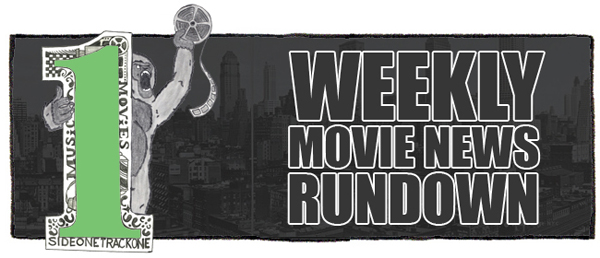 Time for your weekly movie news update!  Below you'll find a slew of sentences meant to provide a brief glimpse of what's been going on over the past week in movieland.  If something leaves you desperate for more info, then my advice is to do a little extra research on one or all of the following fantastic sites:  Latino Review, Dark Horizons, Ain't It Cool News, CHUD and/or JoBlo.  Read on!
Lionsgate is reportedly looking at prequel and sequel opportunities for The Hunger Games.
Rumor has it that the producers of the GI Joe series are looking at doing a crossover film with the 80s cartoon M.A.S.K.  It's also believed that mercenary twins Tomax and Xamot will be the villains.
Michael Gordon (GI Joe: Rise Of Cobra, 300) has reportedly been hired to write a Robotech adaptation.  Andy Muschietti (Mama) may direct the film.
Animal Logic Entertainment and Tezuka Productions are teaming up to develop a live action version of the comic book/manga Astro Boy.
Directors and stunt coordinators Chad Stahelski and David Leitch let it slip that they're developing a sequel to John Wick.
Nicholas Wright and James A. Woods (Independence Day 2) have been hired to write the new Stargate trilogy.
Felicity Jones (The Theory Of Everything) has reportedly landed the lead female role in Gareth Edwards' Star Wars spin-off film.  Aaron Paul and Edgar Ramirez (Carlos) are said to be up for the lead male spot.
Robert Zemeckis will direct Brad Pitt in an untitled movie that's described as a sweeping romantic thriller.  Steve Knight (The Hundred-Foot Journey) wrote the script.
Seth Rogen, Rose Byrne and Zac Efron are set to return for Neighbors 2.  It's due out May 2016.
Ryan Gosling may star opposite Emma Watson in the live action version of Beauty And The Beast.
Guy Pearce and Mia Wasikowska are set to star in Brimstone for Dutch director Martin Koolhoven (Winter In Wartime).  It's said to follow a heroine on the run from her past.
Melissa Leo, Zachary Quinto and Tom Wilkinson have joined the cast of Oliver Stone's Edward Snowden film.  Joseph Gordon-Levitt and Shailene Woodley are already set to star.
Milla Jovovich is reportedly close to signing on to star in Geroge R.R. Martin's In The Lost Lands.  The fantasy-adventure film is said to consist of three interconnected short stories.
Bryan Cranston may play the villain in Justin Lin's Star Trek 3.
Rose Byrne is set to reprise her role as Moira MacTaggert in X-Men: Apocalypse.
Creed, the Rocky spin-off, will be released on November 25, 2015.
Keanu Reeves and Christina Hendricks are set to star in Nicolas Winding-Refn's The Neon Demon.  No word yet on a plot, but it's said to be a horror film.
Adam Wingard (The Guest) will direct The Woods.  The horror film is said to follow a group of college students on a camping trip.
Pete Dinklage will star opposite of Melissa McCarthy in Michelle Darnell. The movie is said to be a comedy about a business woman trying to re-brand herself after getting out of prison.
Luke Evans will star in the maximum-security prison thriller Three Seconds.  Otto Bathurst (Peaky Blinders) will direct.
Charlie Hunnam, Robert Pattison and Sienna Miller will star in James Gray's adaptation of The Lost City Of Z.
Nicolas Cage will star in the Mario Van Pebbles-directed USS Indianapolis: Men Of Courage.
This Week's Notable Trailers