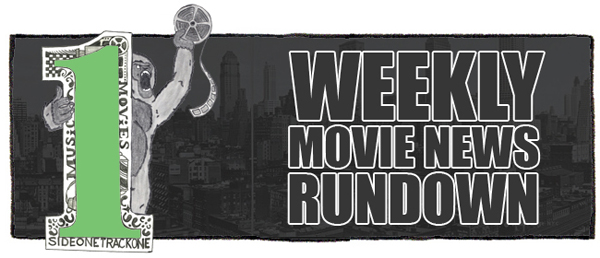 Time for your weekly movie news update!  Below you'll find a slew of sentences meant to provide a brief glimpse of what's been going on over the past week in movieland.  If something leaves you desperate for more info, then my advice is to do a little extra research on one or all of the following fantastic sites:  Latino Review, Dark Horizons, Ain't It Cool News, CHUD and/or JoBlo.  Read on!
Joe and Anthony Russo have reportedly signed on to direct Avengers: Infinity War – Part 1 and 2.
Idris Elba may sign on to be the villain in Star Trek 3.  Elba is also expected to appear in Harmony Korine's The Trap.
Matthew McConaughey is set to star in The Billionaire's Vinegar.  It's said to be about the 1985 purchase of a bottle of 1787 Chateau Lafite Bordeaux that was once supposedly owned by Thomas Jefferson.
Ben Mendelsohn (Bloodline) is said to be up for a role in Star Wars: Rogue One.
Twentieth Century Fox has hired Art Marcum and Matt Hollway (Iron Man) to write a new version of Alien Nation.
Sony has secured the rights to Robotech and plans on turning it into a film franchise.
Nick Antosca (Hannibal) has been hired to write a new Friday The 13th film.
Newcomer Lane Condor has landed the role of Jubilee in X-Men: Apocalypse.
Bradley Cooper will make his directorial debut with A Star Is Born.  Beyonce may star in the film.
Vivica A. Fox has signed on to appear in Independence Day 2.
Jennifer Lawrence let it slip that X-Men: Apocalypse will be her last film in the series.
Vincent D'Onofrio is reportedly in talks to play the villain in Antoine Fuqua's remake of The Magnificent Seven.
Gillian Flynn (Gone Girl) has been hired to write a heist film for Steve McQueen.
Adam McKay is reportedly close to signed on to a direct a Marvel film.
Jason Segel and Drew Pearce have signed on to co-write and co-direct a LEGO spin-off film, The Billion Brick Race.
Steven Spielberg is set to direct the adaptation of Ernest Cline's Ready Player One.
Julia Louis-Dreyfus is reportedly in talks to star in the remake of Force Majeure.
Martin Scorsese may direct the big screen version of Kenneth Branagh's version of Macbeth.
Rumor has it that Mateus Ward (Murder In The First) recently auditioned for the role of Spider-Man.
This Week's Notable Trailers