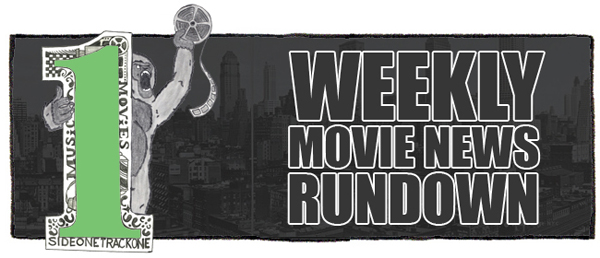 Time for your weekly movie news update!  Below you'll find a slew of sentences meant to provide a brief glimpse of what's been going on over the past week in movieland.  If something leaves you desperate for more info, then my advice is to do a little extra research on one or all of the following fantastic sites:  Latino Review, Dark Horizons, Ain't It Cool News, CHUD and/or JoBlo.  Read on!
Gal Gadot has dropped out of the Ben-Hur remake due to scheduling issues related to her Wonder Woman commitments.
Seth Rogen will portray Steve Wozniak in Danny Boyle's Steve Jobs biopic.  Also, Jessica Chastain is said to be up for a role in the film.
Rumor has it that Sony is considering doing a team-up movie (currently titled Glass Ceiling) that would bring all of the female characters from the Spider-Man comics together.
Michael Bay is reportedly in talks to direct 13 Hours.  The movie is said to be about the attack on the American embassy in Libya that killed US Ambassador J. Christopher Stevens.
Cara Delevingne (Anna Karenina) is said to be up for the role of Harley Quinn in Suicide Squad. She's also reportedly in talks for a part in Pirates Of The Caribbean 5.
The duo of Julien Maury and Alexandre Bustillo (Livid) will direct Leatherface, which is the prequel to Texas Chainsaw Massacre.
Josh Zetumer (this year's Robocop) has been hired to write the Gambit spin-off movie that will star Channing Tatum.
David Twohy (Riddick) has been hired to direct Replay.  The movie is said to be a time travel thriller.
Eric Bana will star in the Ricky Gervais-directed Special Correspondents.  It's said to be about a struggling journalist who fakes front line war reports from the comfort of his home.
Fast & Furious 7 has been retitled Furious 7.
Keanu Reeves will star in Replicas.  The movie will reportedly center around a man bent on bringing back his dead family.
Charlie Hunnam (Pacific Rim) will star in A Prayer Before Dawn.  It's said to be a mash-up of Drive and The Raid.
Marvel has announced plans for phase three of its cinematic universe.  This includes casting Chadwick Boseman as Black Panther and posting the following schedule:
May 6, 2016: Captain America: Civil War
November 4, 2016: Doctor Strange
May 5, 2017: Guardians Of The Galaxy 2
July 28, 2017: Thor: Ragnarok
November 3, 2017: Black Panther
May 4, 2018: Avengers: Infinity War – Part 1
July 5, 2018: Captain Marvel
November 2, 2018: Inhumans
May 3, 2019: Avengers: Infinity War – Part 2
This Week's Notable Trailers