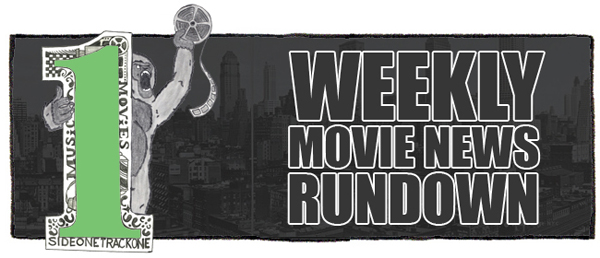 Time for your weekly movie news update!  Below you'll find a slew of sentences meant to provide a brief glimpse of what's been going on over the past week in movieland.  If something leaves you desperate for more info, then my advice is to do a little extra research on one or all of the following fantastic sites:  Latino Review, Dark Horizons, Ain't It Cool News, CHUD and/or JoBlo.  Read on!
Tom Hardy recently noted that he's signed on for three further Mad Max films.
20th Century Fox is in reportedly negotiating with Hasbro to produce a movie based on Play-Doh.  Paul Feig may direct.
Disney is said to be in talks with Alex Ross Perry (Listen Up Phillip) to direct a live action Winnie The Pooh film.  Disney is also apparently working on a live action version of Mulan.
Ben Hardy (EastEnders) has landed the role of Angel in X-Men: Apocalypse.
Parmount has hired Aaron Berg (Section 6) to rewrite the script for GI Joe 3.
Stephen Amell (Arrow) has been cast as Casey Jones in TMNT II.
Sony has reportedly hired Jay Basu (The Pier) to write a Metal Gear Solid adaptation.
Rumor has it that the third Tron film will be titled Tron: Ascension.
Hugh Jackman has let it be known that his last film as Wolverine will be the sequel to The Wolverine.  This week Jackman also announced that he will produce and star in a biblical epic titled Apostle Paul.
Ansel Elgort (Insurgent) has landed the lead role in Edgar Wright's Baby Driver.
Adewale Akinnouye-Agbaje (Oz) will portray Killer Croc in Suicide Squad.
Danny Trejo let is slip that he and Robert Rodriguez are planning to shoot Machete Kills In Space later this year.
Clint Eastwood is said to be in talks to direct the currently untitled Billy Ray-scripted Richard Jewell biopic.  Jonah Hill is still attached to star.
This Week's Notable Trailers