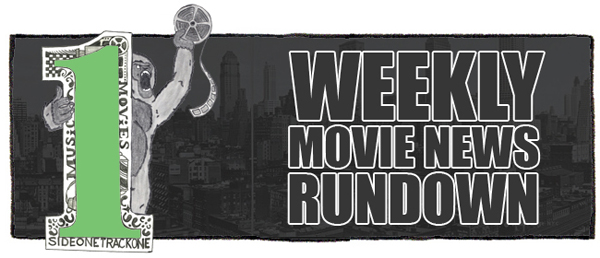 Time for your weekly movie news update!  Below you'll find a slew of sentences meant to provide a brief glimpse of what's been going on over the past week in movieland.  If something leaves you desperate for more info, then my advice is to do a little extra research on one or all of the following fantastic sites:  Latino Review, Dark Horizons, Ain't It Cool News, CHUD and/or JoBlo.  Read on!
Production on Mission Impossible 5 has shut down due to the ending getting a rewrite.
Neil Blomkamp is officially set to direct an Alien movie for Fox.
Morena Baccarin (Firefly) has landed a lead role in Deadpool.  It's rumored she will portray the character Copycat.
Despite having portrayed Colossus in various X-Men movies, Daniel Cudmore will not be in Deadpool.  The role is being recast.
Will Smith may star in Bounty.  The film is said to follow a convicted murderer who escapes prison in order to try and prove his innocence.
Kodi Smit-McPhee (Dawn Of The Planet Of The Apes) has landed the role of Nightcrawler in X-Men: Apocalypse.
Tom Hanks, Felicity Jones, Irrfan Khan, Omar Sy, and Sidse Babett Knudsen are set to star in Ron Howard's adaptation of Dan Brown's Inferno.
Johnny Depp, Javier Bardem, Geoffrey Rush, Kaya Scodelario (Maze Runner), Brenton Thwaites (The Giver) and Golshifteh Farahani (Exodus: Gods And Kings) have signed on for Pirates Of The Caribbean: Dead Men Tell No Tales.  The film will reportedly follow Jack Sparrow as he searches for the Trident of Poseidon so that he can stop a group of ghost pirates.
Timothy Olyphant and Rhys Ifans have joined the cast of Oliver Stone's Snowden.
Rumor has it that Steven Spielberg is interested in directing Chris Pratt in a reboot of Indiana Jones.
The author of the Fifty Shades Of Grey books is reportedly demanding to be given screenwriting duties on future films.
Gore Verbinski is set to direct what's being described as a "driver-less car race" film for Sony.
Producer John Davis (Predator) is said to be working on a reboot of Shaft.
Ewan McGregor will make his directorial debut with an adaptation of Philip Roth's American Pastoral.  Jennifer Connelly and Dakota Fanning will star opposite him in the film.
Jay Roach will direct Scarlett Johansson in the adaptation of Jon Ronson's The Psychopath Test.  Kristin Gore (Futurama) will pen the script.
Kristen Bell will star opposite Melissa McCarthy and Peter Dinklage in Michelle Darnell.
Jay Hernandez (Gang Related) has landed a role in Suicide Squad.
SNL's Cecily Strong is said to be up for a role in the Ghostbusters reboot.
This Week's Notable Trailers