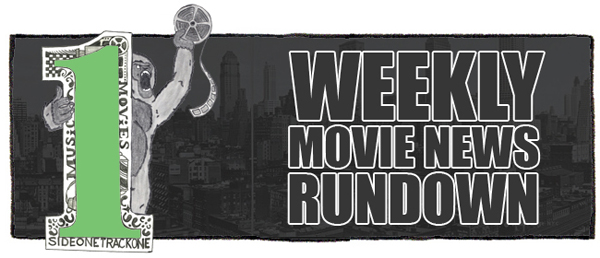 Time for your weekly movie news update!  Below you'll find a slew of sentences meant to provide a brief glimpse of what's been going on over the past week in movieland.  If something leaves you desperate for more info, then my advice is to do a little extra research on one or all of the following fantastic sites:  Latino Review, Dark Horizons, Ain't It Cool News, CHUD and/or JoBlo.  Read on!
Drew Goddard (Cabin In The Woods) will write and direct The Spectacular Spider-Man.
Jeremy Renner is reportedly set to appear as Hawkeye in Captain America: Civil War.
James Mangold recently noted that he expects to shoot the next Wolverine movie "early next year."
Diablo Cody (Juno) has been hired by Sony to rewrite their Barbie movie.
Luke Evans will play Gaston and Dan Stevens (Downton Abbey) will be the beast in Disney's live action Beauty And The Beast.
Jessie Usher (Survivor's Remorse) has landed a role in Independence Day 2.  He will portray the son of Will Smith's Captain Steven Hiller.  Smith is not expected to be in the film.  Also, Liam Hemsworth and Jeff Goldblum have signed on.
Steven Spielberg may direct Jennifer Lawrence in an adaptation of Lynsey Addario's memoir, What I Do: A Photographers Life Of Love And War.
Joseph Kosinski may direct a Gran Turismo movie for Sony.
Denis Villenueve (Prisoners) will direct Amy Adams and Jeremy Renner in Story Of Your Life.  It's said to center around an expert linguist who is recruited by the military to communicate with aliens.
Ang Lee is going to adapt Billy Lynn's Long Halftime Walk.  Newcomer Joe Alwyn is set to star in the film.  Garrett Hedlund (Tron Legacy) and Steve Martin may also sign on.
Bryan Singer will direct an adaptation of Robert A. Heinlein's The Moon Is  A Harsh Mistress.
Jared Hess (Napoleon Dynamite) is set to direct Overnight at 42nd Street.  The film will reportedly follow a man and his son as they try to defuse a hostage situation that develops while they're in a toy store.
Peter Berg, Ronda Rousey and Iko Uwais (The Raid) are teaming up for the action thriller Mile 22.
This Week's Notable Trailers