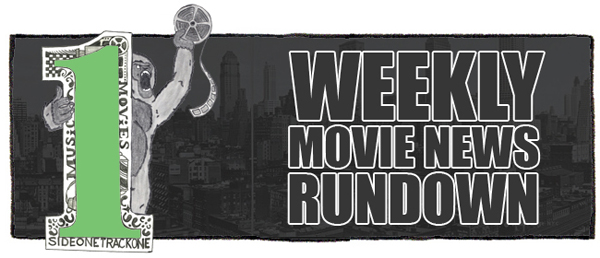 Time for your weekly movie news update!  Below you'll find a slew of sentences meant to provide a brief glimpse of what's been going on over the past week in movieland.  If something leaves you desperate for more info, then my advice is to do a little extra research on one or all of the following fantastic sites:  Latino Review, Dark Horizons, Ain't It Cool News, CHUD and/or JoBlo.  Read on!
Denis Villeneuve (Prisoners) is reportedly close to signing on to direct the Blade Runner sequel.  Harrison Ford will star.
Leonardo DiCaprio will star in The Crowded Room.  The film is based on the book The Minds Of Billy Milligan, which details the true experiences of Milligan as the first person to use mental illness as a defense against his crimes.
Richard Linklater has signed on to direct an adaptation of Maria Semple's Where'd You Go Bernadette.
Rob Schrab (Community) is set to direct The Lego Movie Sequel.
Ben Hardy (EastEnders) is set for what's being called a key role in X-Men: Apocalypse.
Blake Lively and Jason Clarke will star in Marc Forster's All I See Is You.  It's said to follow a blind woman who starts to see disturbing things after her sight is restored.
Evan Daugherty (Divergent) has been hired by Warner Bros. the write the Tomb Raider reboot.
Christian Bale and Rosamund Pike will star in James Mangold's The Deep Blue Good-By.  The film is based on the book series that features sleuth Travis McGee.
Jack Huston (Boardwalk Empire) may star in the remake of The Crow.
Arnold Schwarzenegger recently noted that he'll be back for the next Terminator film.
Simon West (The Expendables 2) will direct Henry Cavill in Stratton.  The film is based on the book series that features Special Boat Service Commando John Stratton.
John Lee (Broad City) has signed on to direct Pee-wee's Big Holiday.  The film will be released via Netflix.
Nicolas Cage has joined the cast of Oliver Stone's Snowden.
Jessica Chastain has signed on for a role in The Huntsman.  The film is a prequel to Snow White And The Huntsman.  Chris Hemsworth, Charlize Theron and Emily Blunt are already set to star.
A Bruce Lee biopic is currently being developed by his daughter, Shannon Lee.
Christopher Cosmos has been hired by Nu Image/Millennium Films to write the remake of Red Sonja.
Will Ferrell is set to star in The House, which is reportedly about a man who opens up an illegal casino in the suburbs.
Robert Townsend will direct a remake of Brewster's Millions.
This Week's Notable Trailers