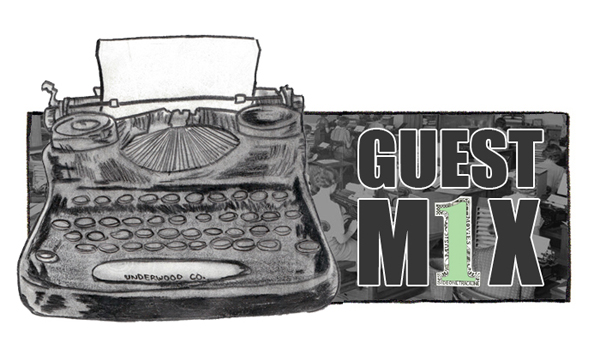 The SOTO staff rambles on enough, so every now again we like to bring in a guest.  This month it's Adrian and Andrew, the duo behind Major Major Major.  Come out on June 27 and see them headline the next SOTO PRESENTS show at the Blackheart.

—
The morning after a last minute show in Fort Worth, Andrew and I hopped in my beautiful Chrysler Town and Country Touring minivan (best damn car in the world I know) and made our way to Lawrence, Kansas for our next show on tour. We were pretty bummed that our show in Oklahoma City had been canceled but we trekked on with our spirits high, after all, we had just begun our summer tour of the Midwest. Once we had crossed the Kansas border in the middle of the afternoon, the sky turned ominously grey, the land flattened, and the road just kept going on and on like we had died and gone to purgatory. I decided to take a little nap and let Andrew finish the drive. I woke up to the music blaring and Andrew belting to possibly the strangest hit of the 90's, that Mmm Mmm Mmm song by the Crash Test Dummies (I have video of this if anyone is interested). Whether the long lonesome drive inspired him to play this track or Crash Test Dummies are secretly his favorite band I am still not sure but nonetheless Mmm Mmm Mmm fittingly became one of our tour Anthems.
So here it is, an oh so epic list of our TOUR ANTHEMS. We recommend these for long drives.
:Crash Test Dummies - Mmm Mmm Mmm:  Andrew owns this album and says the other tracks are just as good. I'm not sure I believe him.
:Non Blondes - What's Up:  This is probably my "Mmm" song. A true sing in the shower kind of diddy.  Just try completely destroying your vocal chords on this gem one day, I promise you'll feel better. "REVOLUTION!!"
:Titus Andronicus - The Battle Of Hampton Roads:  When Andrew and I first started playing music together, we bonded on our love for Titus. This is probably their most epic tune.
:Can - Yoo Doo Right:  One of my favorite bands to listen to on da road. Apparently this track is a 20 minute excerpt from a six hour jam session which never ceases to blow my freakin' mind.
:Sleep - Dragonaut:  Another amazing band to listen to on da road. Lots of fierce air drumming and head banging on this one.
:Tenacious D - The Road:  "The road is fucking tough"
:The Magnetic Fields - The Death Of Ferdinand de Saussure:  Stephen Merritt is a heartbreak extraordinaire. It's like he has been reading our high school self's livejournal.
:Wipers - Doom Town:  Perfect for desolate terrain.
:Amputated - Menstrual Cunt Fart:  A song that offers scientific knowledge of the menstrual cycle, as well as some seriously unmatched vocal abilities. This was a very very dark part of the road as you can probably assume.
Miley Cyrus - Can't Stop – It's our mix, we can play what we want to!