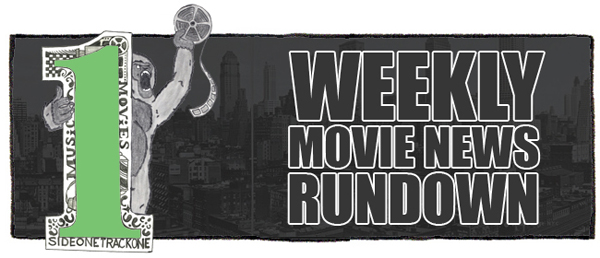 Time for your weekly movie news update!  Below you'll find a slew of sentences meant to provide a brief glimpse of what's been going on over the past week in movieland.  If something leaves you desperate for more info, then my advice is to do a little extra research on one or all of the following fantastic sites:  Latino Review, Dark Horizons, Ain't It Cool News, CHUD and/or JoBlo.  Read on!
Jason Mamoa is reportedly set to play Aquaman in Batman VS Superman: Dawn Of Justice.
Russell Crowe and Ryan Gosling may star in Shane Black's noir film, The Nice Guys.
Tom Hiddleston (The Avengers) is set to portray Hank Williams in the biopic I Saw The Light.  Marc Abrams (Flash Of Genius) will direct.
Guillermo Del Toro will no longer direct Beauty for Warner Bros.  He reportedly had to drop out due to a scheduling conflict.  Emma Watson is still set to star in the film.
Sony is developing a live action/CG-animated franchise based on Sonic The Hedgehog.
Josh Brolin has signed on for a role in the Coen Brothers' upcoming comedy Hail, Caesar.
Ice Cube's son, Jonathan Herman, will portray his father in F. Gary Gray's NWA biopic, Straight Outta Compton.
Kristen Wiig will make her directorial debut via a currently untitled buddy comedy.
Jon Chu (GI Joe: Retaliation) may direct Now You See Me 2.
Bryan Cogman (Game Of Thrones) has been hired to pen the script for the Magic: The Gathering movie.
There's a rumor that says this is Warner Bros' plan for their DC films – Batman VS Superman: Dawn Of Justice (May 2016), Shazam (July 2016), Sandman (December 2016), Justice League (May 2017), Wonder Woman (July 2017), Green Lantern & Flash Team-Up (December 2017), Man Of Steel 2 (May 2018).
Keanu Reeves is set to replace Daniel Craig in the courtroom drama The Whole Truth.
Rumor has it that Sony may delay The Amazing Spider-Man 3 from June 2016 to sometime in 2017.
Now that he's committed to I Walk With The Dead, Nicolas Winding Regn will no longer direct the haunted horror film The Bringing.
This Week's Notable Trailers