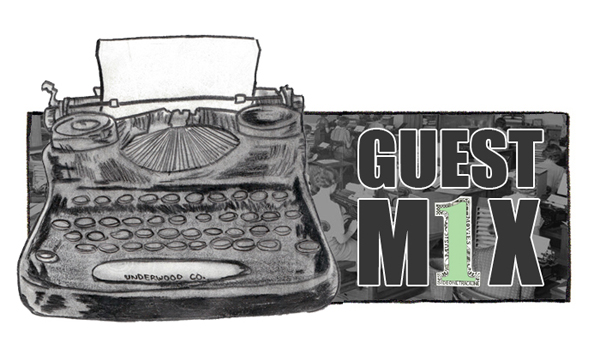 As you may have seen, Austin's own Wild Child announced a new album this week!  In celebration of it, I reached out to singer Alexander Beggins to see if he'd be up for a Guest Mix, and he agreed that it was probably a great idea to do one.  Check it out below.  Also, see here for upcoming Wild Child shows.  Enjoy.
—
One thing to know about me, Alexander James Beggins-Captain Handsome, is that I have extreme music a.d.d. If you were to ask anyone that knows me, especially the band, they would tell you I can't finish listening to an entire song ever. Which is one of the reasons why I listen to a lot of music through Youtube. Somehow it seems more okay to listen or watch half of a video and move. Having said that, the following tracks are what I've been digging lately. It's about to get really random up in here.
—
Biggie Smalls – Juicy
If you don't like this song then you can get the fuck out. You aren't my friend. Like at all. I can get through about half the raps, and then I fall off and mumble my way through it, but then I find another line and I say it real loud. "……….quietly mumbles…. "LUNCHES BRUNCHES". Swag.
—
Bright Eyes – Bowl of Oranges
This video is amazing. I've always wanted to do something like this but I've decided I'm way too lazy. I'm hoping one day I'll be able to just tell someone my ideas and they will just do it for me and I can claim it as my own later on. Until then I will watch Bowl of Oranges. I go through Bright Eyes phases. Sometimes I think he's the greatest artist ever and sometimes his voice annoys the shit out of me. Sometimes I'm like "shuttttttt upppppp Conor, wow are you are whinny baby". And other times I'll listen to Bright Eyes for days and praise him like the worthy Music God that he is.
—
OK GO – This Too Shall Pass
Okay so, this is literally the coolest shit ever. All their videos are. I could watch stuff like this all day. I think they are amazing writers as well although I don't really listen too them. Their over the top talent for literally everything kind of pisses me off. I feel like they are like, let's make an awesome music video and then they are like okay sweet let's write a song really quick so we can make the awesome video.
—
Earl Sweatshirt – EARL
I actually know almost every word in this song. I showed my dad this video once and he seems legitimately offended. I think their rhymes are absolutely insane. Not for everyone, but for better or worse, definitely for me.
—
The Blue Hit – War Like Boys
This song will make you cry. It's insanely perfect and beautiful. If this doesn't make you melt on the floor you are a sick sick fuck. I love this song and video. I show it to everyone. It's one of those songs where I say "dang I really wish I wrote that." Also, they are from Austin. Which is tite. They broke up and are now in another awesome band.
—
Wild Child – Crazy Bird
BECAUSE SHAMELESS SELF PROMOTION IS THE NAME OF THE GAMEEEEEEEEEEEEEEEEEEE.
—
Tonight You Belong To Me (From The Jerk)
Steve Martin with a ukulele … YAS QUEEN. One of my favorite movies and a perfect song. I can't remember who originally wrote it but I like this version the best. When the trumpet comes it's #perfection.
—
Semisonic – Closing Time
Grew up with it and it gives me all the feels. When the piano starts I feel like everything will be okay. The video is so dated now but reminds me of being a kid and rocking out. It's just a drinking anthem, which I'm fine with.
—
PHOX – Slow Motion
Some dear friends of mine make up PHOX. I am still utterly blown away by their talent. Monica might actually be an alien or an angel, jury is still out. These friends make me want to quit music and become an accountant.