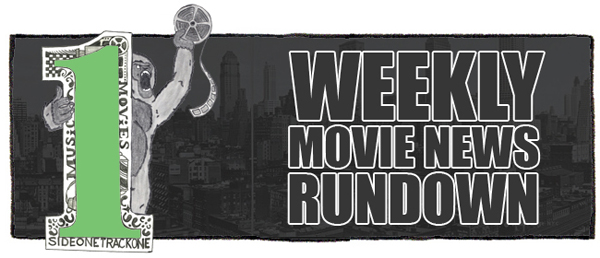 Time for your weekly movie news update!  Below you'll find a slew of sentences meant to provide a brief glimpse of what's been going on over the past week in movieland.  If something leaves you desperate for more info, then my advice is to do a little extra research on one or all of the following fantastic sites:  Latino Review, Dark Horizons, Ain't It Cool News, CHUD and/or JoBlo.  Read on!
Adam McKay is reportedly in talks to replace Edgar Wright as the director of Ant-Man.
Josh Brolin is set to voice Thanos in Guardians Of The Galaxy.
Will Smith has dropped out of the sci-fi/superhero flick Brilliance.  No word yet on why he left or who might replace him.
Roland Emmerich is set to direct a new Stargate trilogy.
James Mangold (The Wolverine) is reportedly in talks to direct a Joe Namath biopic.
Steven Knight (Eastern Promises) has been hired to write the sequel for World War Z.
Antoine Fuqua is set to direct Narco Sub.  The movie is about a submarine that's used by drug cartels to ship cocaine into the US.
Johnny Depp may portray Harry Houdini in The Secret Life Of Houdini.  It's said to be an action thriller in the vein of Indiana Jones.
Despite saying he would never make the movie, it looks as though Quentin Tarantino will direct The Hateful Eight later this year.
George Nolfi (The Adjustment Bureau) is set to direct Birth Of The Dragon.  The biopic will reportedly document Bruce Lee's legendary duel with Wong Jack Man.
Joe and Anthony Russo (Captain America: The Winter Solider) will write and direct the adaptation of Mark Greaney's novel The Gray Man.
Newcomer Carter Blanchard has been hired to write the second draft of the script for ID4EVER, the sequel to Independence Day.
John McTiernan may direct Nicolas Cage in a movie called Red Squad.  The film is said to be about a former DEA agent and his team of mercenaries trying to take down a drug lord.
The American remake of The Raid has been delayed due to casting issues.
A remake of Cliffhanger is currently underway over at StudioCanal.  There's no director or cast currently attached to it.
Alfonso Cuaron recently noted that he will not be directing the Harry Potter spin-off Fantastic Beasts And Where To Find Them.
Leonardo DiCaprio and Tom Hardy may star in Alejandro Gonzalez Inarritu's The Revenant.  The movie is said to center around a man who is seeking revenge on those who once left him for dead.
Anthony Mackie (Captain America: The Winter Soldier) may star in a Jesse Owens biopic.  No word yet on a the exact title of the movie.
This Week's Notable Trailers