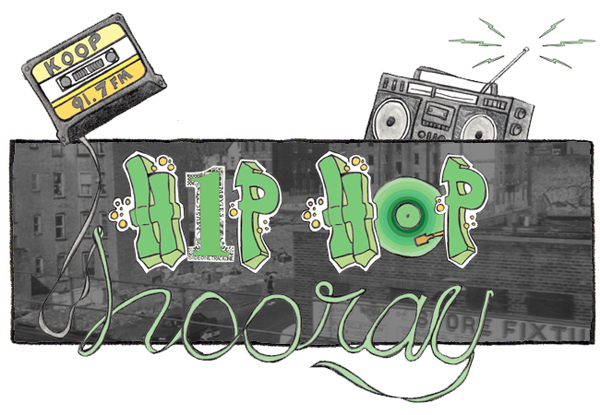 Hip-hop, as you likely know, is a new genre, with only 40ish years under its YSL belt.  The journey from outdoor block parties and gym-floor dances hasn't always been smooth or unobstructed for the style, and it continues to face prejudice, being written off, and abuse by a dominant white culture in the U.S., even as it has become the most popular music of the youth (or maybe because of that fact.)
Twenty years ago, it felt like hip-hop was either going to settle into a groove of its own, or tear itself apart. After having a so-called Golden Age between '88 and '93 which primarily highlighted the output of Native Tongue-esque Afrocentrism and positivism, hip-hop was finally figuring out where the blurred edges were in its darkness – and making them sound radio-ready.  Gangsta/gangster rap (Tupac, B.I.G., Scarface) was to reach a pitched crescendo in 1994, but wasn't the only segment of the genre to push forward, as conscious (Common, Arrested Development) and abstract (Digable Planets) rap also found audiences.  Common's classic I Used to Love H.E.R. as a metaphor for the genre being assaulted by gangsters still stands as a testament to how artists and fans alike felt uneasy at the new direction, even as that direction boosted album sales and radio play.
On today's playlist, I bring you tracks from one of the most important years in hip-hop: 1994, when hip-hop was finding the different voices it would ride into the new millennium.
SONG OF THE MONTH:
:The Treacherous Three – The Body Rock:  This track from the very last studio album Old School Flava feels like the last gasp of the '80′s sound – clocking in at a radio-unplayable seven minutes, with long stretches without the modern style of dense rap verses, and using the old school's signature electro-funk sounds, this may be the oldest-sounding release from 1994. Still a goddamn groove though.
EDIT:  So, it turns out this song sounds so much like a throwback because it was actually recorded in 1980. I researched and found a major label release of 1994, so I went with that date. Apologies for the error, and h/t to John Lowe for the correction.
MAY MIX:
:Fu-Schnickens – What's Up Doc:
:Outkast – Southernplayalisticadillacmizik:
:Organized Konfusion – Stress:
:Gangstarr – DWYCK:
:Nas – It Ain't Hard to Tell:
:Digable Planets – Dog It:
:Notorious B.I.G. – Juicy:
:Scarface – The White Sheet:
:Common – I Used to Love H.E.R.:
:Jeru The Damaja – Come Clean:
:TLC – Creep:
:Warren G – Regulate:
:Method Man – Release Yo' Delf (Prodigy Mix):
:Redman – Tonight's Da Nite:
:Arrested Development – Ease My Mind:
:Blackalicious – Swan Lake:
:Main Source – Fuck What You Think:
:Public Enemy – What Side You On?: