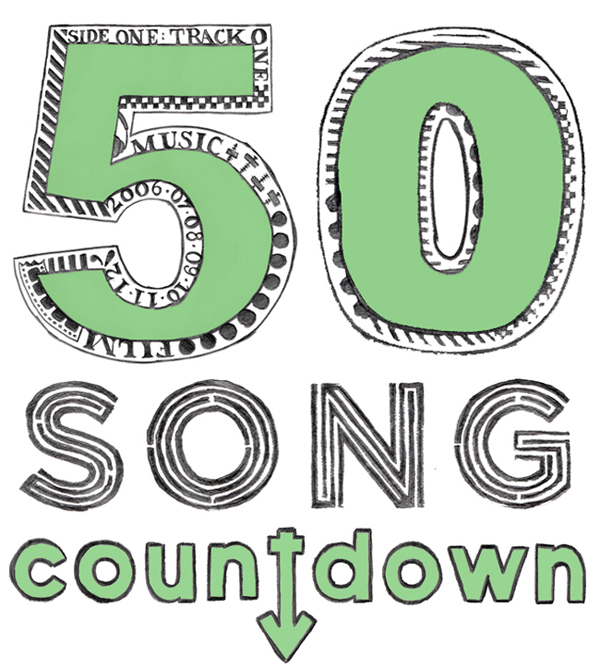 The end of 2012 is drawing close, and that means it's time to start making "best of" lists.  Below you'll find the first part of my Top 50 Songs Of 2012.  In case you're curious, I chose the songs from the 400+ tracks that I shared around here throughout the last 11 months.  Enjoy.
50)  :White Wires – All Night Long:  Every time I hear this pop punk gem I have to listen to the rest of their album, which is full of songs that are just as catchy.  From WWIII.
49)  :The Corin Tucker Band – Groundhog Day:  You could try to find a better voice than Corin's, but you'd just fail miserably.  The girl can wail like no other, and I'm happy she's been staying busy post-Sleater Kinney.  From Kill My Blues.
48)  :Bryan Scary – Ziegfield Station:  This band has long been a wonder when it comes to one-off singles that I can't get out my head, and they kept that streak rolling in 2012 with this retro-rock track.  From Daffy's Elixir.
47)  :Dirty Ghosts – Ropes That Way:  There was a span of about two months where I couldn't escape this song from Dirty Ghosts.  It has such a high level of energy that it just sucks up all your attention.  From Metal Moon.
46)  :Desaparecidos – MariKKKopa:  I love that this band was able to come roaring back.  Who would have thought that Conor Oberst still had some ferocity in him?  From the MariKKKopa/Backsell 7″.
45)  :Yuck – Chew:  I may not have gotten a new album from the awesome Yuck in 2012, but I did get this fantastic one-off single.  Toss on headphones to catch all of the rather nice guitar work.
44)  :Deep Time – Clouds:  This Austin-based act (formerly known as Yellow Fever) really caught my attention with this quirky pop tune.  Not sure they've ever done anything catchier.  From Deep Time.
43)  :Black Bananas – Rad Times:  There's far too much going on in this track, but I dig it anyway since it's one of those efforts that's just endlessly entertaining.  From Rad Times Express IV.
42)  :Maps And Atlases – Fever:  This song always manages to slap a smile on my face.  I love how upbeat and fresh it sounds.  From Beware And Be Grateful.
41)  :Miike Snow – Paddling Out:  I've never been much of a Miike Snow fan, but I've been overly attached to this track since sharing it back in January.  Watch out, as it'll instantly make you want to dance.  From Happy To You.