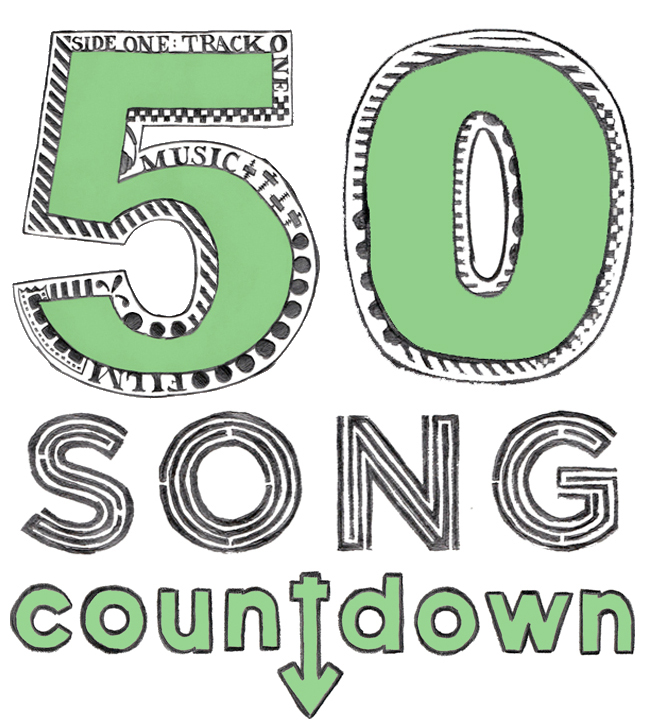 Well look at that, here are my Top 50 Songs of 2017.  Enjoy.
50) Jamiroquai – Automaton
Jamiroquai still got it, man.
49) Matthew Logan Vasquez
I jammed this Matthew Logan Vasquez (of Delta Spirit fame) track on my radio show, 101X Homegrown, a lot this year. It's fierce.
48) Sharon Jones & The Dap-Kings – Matter Of Time
I miss Sharon Jones.
47) Sheer Mag – Just Can't Get Enough
Pure retro goodness here by Sheer Mag.
46) Weaves – Walkaway
Weaves churned out a really nice low key anthem here.
45) Filthy Friends – Any Kind Of Crowd
Corin Tucker sounds adorable in this Filthy Friends song.
44) Julien Baker – Appointments
Sad! Classic Julien Baker.
43) Wiretree – Let Me In
I love this sweet little number by Austin's own Wiretree.
42) Hazel English – Fix
What a wonderfully hazy pop tune by Hazel English.
41) Mogwai – Eternal Panther
Somehow the best song that Mogwai put out this year isn't on the album they released.
40) Alyeska – Stones
This 90s indie rock throwback from Alyeska is fantastic.
39) Land Of Talk – Loving
It's so good to have Elizabeth Powell back in action as Land Of Talk.
38) The Kills – Desperado (Rhianna Cover)
The Kills really make this Rhianna track their own.
37) Why? – Proactive Evolution
I'll never tire of Why?. This is one of my favorite songs by them.
36) The Octopus Project – Small Hundred
This song by The Octopus Project always makes me want to get up and move.
35) Fujiya & Miyagi – Solitaire
Another year, another infectious jam by Fujiya & Miyagi.
34) Carly Rae Jepsen – Cut To The Feeling
Can't stop Carly.
33) The Courtneys – Silver Velvet
This is the catchiest song on The Courtneys' album of really catchy songs.
32) Growl – New Sincerity.
Here's some jangly pop perfection by Austin's Growl.
31) Kane Strang – Oh So You're Off I See
I revisited this slightly weird Kane Strang track a lot in 2017.
30) Beth Ditto – Oo La La
Beth Ditto really goes for it here.
29) Sports – Making It Right
This is a charming pop tune from Sports.
28) Wolf Parade – You're Dreaming
Wolf Parade with a legit ear-pleaser.
27) Ought – These 3 Things
Ought went new wave here. Good move!
26) Waxahatchee – Never Been Wrong
Indie rock perfection by Waxahatchee.
25) The Rural Alberta Advantage – Toughen Up
The Rural Alberta Advantage made a big time jump back onto my radar with this song.
24) Screaming Females – Black Moon
I can't wait for the new Screaming Females album. This first single is so damn good.
23) Protomartyr – Don't Go to Anacita
Intense but great. Protomartyr are the best.
22) Sweet Spirit – The Power
What a big track by Austin's Sweet Spirit.
21) Perfume Genius – Slip Sway
This is one of Perfume Genius' best songs.
20) Spook School – Less Than Perfect
Spook School are as catchy as can be here.
19) Rhye – Taste
This Rhye track has an immaculate sound.
18) Jay Som – Baybee
Hazy, dancey, perfect stuff here by Jay Som.
17) Walker Lukens – Don't Want To Be Lonely (Don't Want To Leave You Alone)
Here's a total ear-worm from Austin's Walker Lukens.
16) The Blow – Get Up
This song from The Blow is a rambly as can be, but I love it.
15) LCD Soundsystem – Call The Police
The best song on LCD Soundsystem's comeback album.
14) Diet Cig – Barf Day
The line "I know that you're sorry, I just don't care" will forever make me smirk. Thanks for that, Diet Cig.
13) Molly Burch – Wrong For You
It's just about impossible to not love this retro-leaning effort from Austin's own Molly Burch.
12) Lo Tom – Overboard
David Bazan is so good in this Lo Tom tune. I love his voice.
11) Football, etc. – Save
This track from Austin's Football, etc. has an early 2000s indie rock vibe that I really dig.
10) The War On Drugs – Holding On
Headphones + this track from The War On Drugs = my happy place.
09) The Coathangers – Captain's Dead
The Coathangers are on a real roll right now. This song is a blast.
08) Spoon – Do I Have To Talk You Into It
I love how loose Spoon sound here.
07) White Reaper – Judy French
So infectious. White Reaper continue to be big favorites of mine.
06) Alex Lahey – Every Day's The Weekend
My favorite song from 2017 to sing-a-long to. Alex Lahey sure knows how to write an anthem.
05) The National – The System Only Dreams In Total Darkness
Heavy but accessible. Great track by The National.
04) SZA – Supermodel
I spent a couple of months obsessed with this SZA song. It's so dramatic.
03) Kendrick Lamar – Humble
It was impossible to escape this Kendrick Lamar song in 2017. I didn't mind.
02) St. Vincent – Los Ageless
St. Vincent is rather aggressive here, and it's awesome.
01) Alvvays – In Undertow
This was practically my default song this year. It's perfect. Thanks, Alvvays!