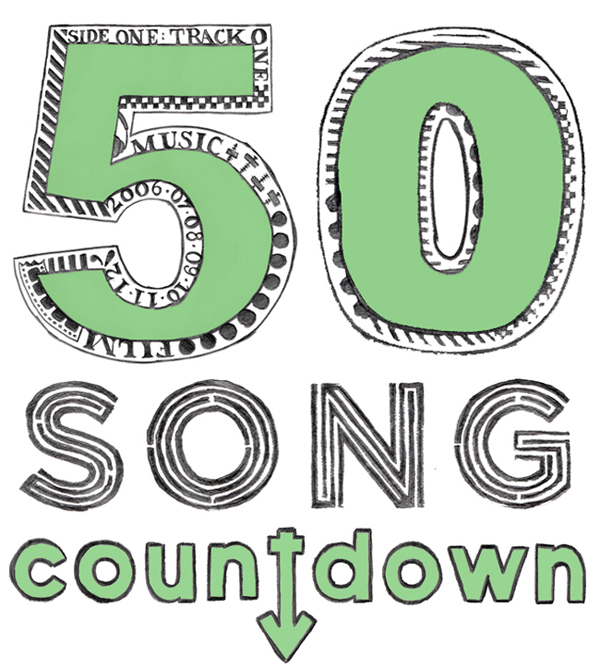 It's Friday, which means we have arrived at the end of my Top 50 Songs Of 2012 list!  I hope you've had a good time perusing the previous 40.  In case you somehow missed this little bit of info, I chose the songs from the 400+ tracks that I shared around here throughout the last 11 months.  Enjoy.
10)  :Icona Pop – I Love It:  Much of my 2012 was spent looking to this electropop number for a burst of fun.  I just kind of adore how obnoxious it is.  From the Nights Like This EP.
09)  :Japandroids – The House That Heaven Built:  I think it's safe to say that with this song, Japandroids are now officially the band everyone looks to when they're in need of an anthem.  From Celebration Rock.
08)  :David Byrne And St. Vincent – Who:  This track is focused pop madness, and to be honest, that's exactly what I was hoping the David Byrne/St. Vincent collaboration would unleash onto the world.  From Love This Giant.
07)  :Ellie Goulding – High For This (The Weeknd Cover):  Every year there's a cover that I can't get enough of, and in 2012 it was Ellie's sensual take on this Weeknd track.  I highly recommend headphones.  And booze.
06)  :TV Girl – I Wonder Who She's Kissing Now:  There's going to come a year where I don't get an incredibly catchy and charming retro pop track from TV Girl, and then I'll immediately become cranky and constantly reference the "good old days."  From The Wild, The Innocent, The TV Shuffle.
05)  :Tame Impala – Elephant:  Of the 50 songs on this list, this is my favorite to try and ruin my speakers with.  It's actually flaunting some attitude, which is something I didn't think Tame Impala had in them.  From Lonerism.
04)  :MS MR – Hurricane:  2012 featured a ton of good music that was 90s-enthused, so you know it means something when I say that I found this MS MR song to be the best of the bunch.  From the Candy Bar Creep Show EP.
03)  :Dum Dum Girls – Lord Knows:  This band is so very good, and it's all because Dee Dee continues to be one of the best songwriters around.  Just listen to the lyrics in this incredible song for proof.  From the End Of Daze EP.
02)  :Twin Shadow – Five Seconds:  I wanted to not use the word "infectious" anywhere in this list, but that's just exactly what this 80s throwback is.  Good luck trying to ever escape its grasp.  From Confess.
01)  :Purity Ring – Fineshrine:  When I sat down to map out this year's 50 songs, I already knew what would be in this spot.  That's actually never happened before, and I give all the credit to Purity Ring, who created a song that's as fantastic as can be on all fronts.  I will love this track forever.  From Shrines.
PS – You can check out the entire list on one page here, or the majority of the songs here on Spotify.