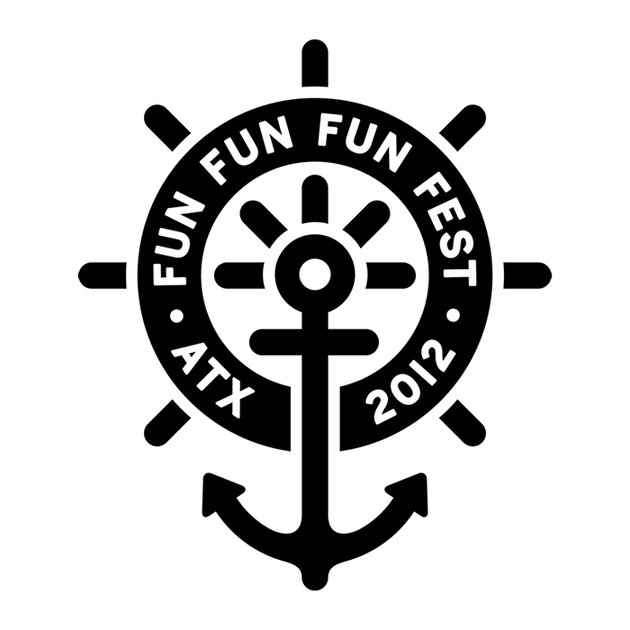 Fun Fun Fun Fest takes over Auditorium Shores this weekend, and I'm pumped.  Like every year, the festival is packed with a large variety of acts that must been seen.  Refused, Santigold, Explosions In The Sky, Run DMC – these are just a few of the big names that will be delighting the masses.  As I noted, though, the lineup is stacked, and that means there will also be quite a bit of good music going on during the afternoon.  Below you'll find the 10 bands that I think you should head out early to see.  Enjoy.
PS – Tickets are still available!  Also, the FFF Nites are going to be killer.  Check out the list of acts here.  The shows are free if you have a Fun Fun Fun Fest wristband.
Celebration Rock is quite possibly the best rock release of the year, and I know these two guys put on a great show.  Combine those two things with the rowdy attitude (from the artist and the crowd) that tends to come with the Black Stage, and it's possible that the world will catch on fire.  I can't wait to see what happens.
:Japandroids – The Nights Of Wine And Roses:
Japandroids play the Black Stage at 4:20pm on Sunday.
This pop duo put out one of the year's catchiest tracks, and they're riding a fairly large wave of buzz.  Time to see if they're worth all the attention.  I'm hoping they are, as it could make for a really entertaining show.
:Icona Pop – I Love It:
Icona Pop play the Blue Stage at 1:50pm on Friday.
I saw this band at SXSW, and I came away fairly impressed.  Their sound is of the simple, straightforward retro pop variety, but they work it and put on an upbeat show that will surely play well amongst the chaos of Fun Fun Fun Fest.
:Bleached – Searching Through The Past:
Bleached play the Orange Stage at 2:10pm on Sunday.
This list isn't in any particular order, but if it was I'd probably put Fidlar near the top of it.  They've released so many good songs in 2012, and I must hear them all live.  Or, if anything, I at least want to hold a drink high in the air as the band plays Cheap Beer.
:Fidlar – Cheap Beer:
Fidlar play the Black Stage at 1:05pm on Friday.
To be honest, I don't know much about this act.  I can only say that Harlem Shake is one hell of a banger, and I have to see how the crowd handles it.  I predict a dance party that will be spoken of for years to come.
:Baauer – Harlem Shake:
Baauer plays the Blue Stage at 1:45pm on Sunday.
This band has been mentioned so many times around here that I'm sure you already had plans to see them.  RIGHT?  If for some crazy reason you didn't, be sure to go.  They have a large handful of stellar songs in their repertoire, and I always find their live sets to be very good.
:Yellow Ostrich – Marathon Runner:
Yellow Ostrich play the Orange Stage at 12:30pm on Friday.
I've been wanting to see these guys play for a long time.  Their recorded stuff is full of energy, and they seem like a band that will own the festival setting and do something fun.
:Fang Island – Asunder:
Fang Island play the Orange Stage at 1:35pm on Sunday.
I imagine that many of you are already very aware of the Helio Sequence, but they're playing so early in the day that I wanted to make sure to highlight them.  Also, their latest album, Negotiations, is a good one, and I can't wait to hear the new songs live.
:The Helio Sequence – Hall Of Mirrors:
The Helio Sequence play the Orange Stage at 2:10pm on Saturday.
I've had the pleasure of seeing this guy twice, and both times I wanted to find him after his set and give him the best high five possible.  He's an absolute blast, and I wouldn't be surprised if he came out of Fun Fun Fun Fest with a new legion of fans.
:Astronautalis – Dimitri Mendeleev:
Astronautalis plays the Blue Stage at 4:55pm on Friday.
I've grown to like Torche because of their most recent album, Harmonicraft.  They do catchy, anthemic metal tunes that are fun to sing-a-long to, and I expect they'll make for a nice change of pace on the Black Stage.
:Torche – Letting Go:
Torche play the Black Stage at 2:15pm on Friday.
HONORABLE MENTION – The Midgetmen
Because sometimes the world is just crazy enough that covering Weird Al's Dare To Be Stupid will land you a spot at a large festival.  Nailed it!  I'm super excited for these local guys to be playing (and kicking off, actually) Fun Fun Fun Fest.  I've seem them do the aforementioned covers before, and they're actually pretty good.
On a related note, tomorrow I'll be premiering a downloadable track and a full stream of the Midgetmen's cover of Dare To Be Stupid!  Be sure to drop by and check it out.
The Midgetmen play the Yellow Stage on Friday at 11:50am.