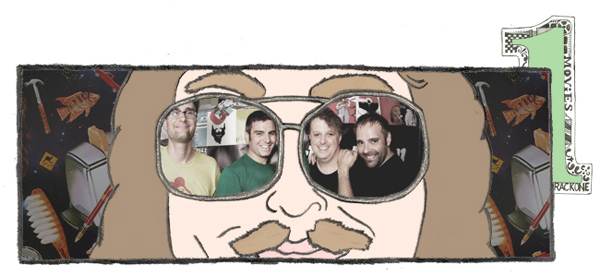 The Midgetmen are one of those Austin bands that you just have to love.  They work hard, they play loud, and they're just as quick to mock your existence as they are to support it.  If you ask me, those are all great traits to have for just regular life, but they're perfect if you plan on covering (and officially recording) all of Weird Al's Dare To Be Stupid.  Do people even cover parody albums?  Why again is this happening?
Because why the hell not, that's why.
That's long been the Midgetmen's approach to everything, and their little cover adventure has put the slop-punk act in a damn good spot.  They'll be kicking off Fun Fun Fun Fest on the Yellow Stage at 11:50am this Friday, and all of Dare To Be Stupid is debuting here at Side One Track One.  One of those actually matters, but who's counting.
Now, before you move on to checking out the album there's a few things I need you to do.
1) Turn the volume on your speakers way up.
2) Open a beer.
3) Download the title track and sneak it into every mix from here out.
4) Open another beer.
5) Read Midgetmen bassist/vocalist Marc Perlman's Dare To Be Stupid ramble.
—————–
The Midgetmen always knew we'd turn into a huge successful festival band, similar to Widespread Panic where tens of thousands of lily white Americans with little rhythmic skills would awkwardly sway and twirl to our tunes. It just happened to take us a full decade, yet we still don't have a tune with any redeeming rhythmic qualities. We've spent the better part of 2012 learning (and The Midgetmen always use the word "learning" in the loosest manner possible) all of Weird Al's Dare To Be Stupid, recording it, and then re-learning it for Fun Fun Fun Fest and we're flattered that anyone would actually be awake early enough on a Friday morning to come watch the spectacle. And playing on the "comedy stage"? A wiser man than us once said that it's all comedy. And he was correct.
The dozens of people who have paid attention to our modest attempts at this "being in a band" thing over the past decade know that The Midgetmen don't really like to half ass things even if we're in it just for free beers and a fun time. We could have spent way more time on the recording of Dare To Be Stupid to get the vocals better, the rhythm tracks like a metronome, and the mic placement perfect but does anyone actually want The Midgetmen's version of Chinese Democracy? (Don't answer that, because we've got to leave something in the tank for year #20) What we've recorded — the entirety of Dare To Be Stupid capped by a self parodying medley of our own songs called Hooked On Beer in a nod to Weird Al's Hooked On Polka — seems like the perfect way to cap 10 years of free beer and musical stupidity: It's a thank you to ourselves and our fans.
Yes, we just thanked ourselves. Before we thanked you.
Just wait for year #11, #15, and #20.
—————–
:The Midgetmen – Dare To Be Stupid: