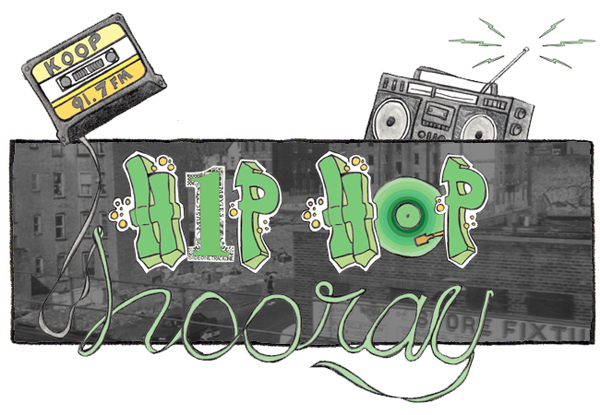 Alright guys, the game is up. The students are back from summer travels and we have to rescind our bar stools and parking spaces to their butts and their cars and retreat to our comfort zones in east and southside bars.  We have to give back their dance music and act all adult and shit.  Here's your adult mix.  Not too adult though, because who really wants to grow up??
KOOP 91.7FM, the radio station where Hip Hop Hooray lives, and the reason for its existence, is currently holding a fund drive to stay on the air.  I hope if you appreciate the mixes I bring you every month, and ever listen to the show itself, you'll consider making a pledge to KOOP here.  If you put "SOTO" in the comments, I'll include a very special gift in return for your donation!
Also, side note: Hip Hop Hooray is sponsoring a hip hop open mic on Sunday, September 9th at 29th Street Ballroom from 8-10 PM and every Sunday thereafter. You should come out and see the birth of new rap, which is way less gross than regular birth.  All the details are here.  I'll be the lady in the Hip Hop Hooray shirt. Say hi!
:Dark Time Sunshine – ANX (Featuring Mendee Ichikawa):
:Kam Moye – MK-Ultra (Featuring Baba Zumbi):
:Bizarre Tribe – Runnin':
:Ana Tijoux – La Nueva Condena:
:DJ Kentaro – Lapis Lazuli:
:P-Tek – This Bridge Is Burning For You (Featuring Dessa):
:Kool Keith – Plastic World:
:J-Live – It Don't Stop:
:Space Camp Death Squad -  Kiss From A Rose (Featuring Sabrina Ellis):
:Schoolboy Q – There He Go:
:Aceyalone, Bionik, Chali 2na – Eazy:
:Danny Brown – Grown Up:
:Babbletron – The Clock Song:
:Rick Ross – Ashamed:
:A-rif – Brief Moments Of Profound Self Importance:
:Why – Sod In The Seed:
Catch Miss Manners when she hosts KOOP 91.7FM's Hip Hop Hooray on Sunday's from 2-3PM. Also, feel free to email or tweet her anytime.