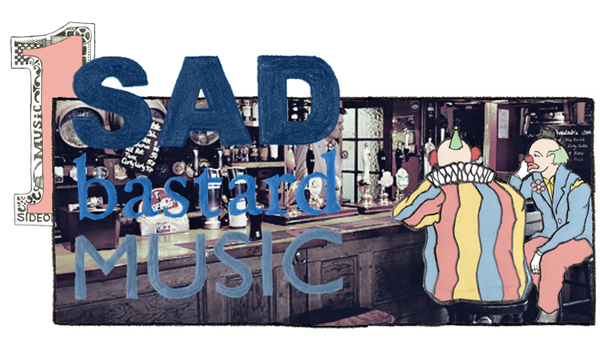 It's that time of year again. It's a time when a flurry of complicated haircuts, free energy drinks and former members of Das Racist pour in to Austin for a music festival that is located in the Lone Star State.
There are a lot of talented dance groups, party rock bands, etc coming to town but let's pay tribute to some of those coming to the festival who could be best be interpreted as the purveyors of sad bastard music. This is not the easiest list to compile because there is a convention center full of musicians from all over the world and this week they are all going to be sad when they can't get into the secret show where Robert Durst from the Jinx raps with Drake, but let's take a crack at it. Let's listen to the sounds of people's relationships falling apart through the computer speakers shall we?
:Angel Olsen – unfucktheworld:  Last year's Jagjaguar release Burn Your Fire for No Witness is full of lament and lonely feels but my favorite is this here bare-your-soul jam. "If all the trouble in my heart would only mend …" YES! The whole album was recorded to make you feel alone. It's sparse and through studio magic (with wizard producer John Congelton behind the knobs) let's you into Olsen's tragedy. By definition: unfucking the world would imply a sensation of promise … but she's the only one now. so there is no hope for happiness. She is a rock, she is a gritty and beautiful island.
:Courtney Barnett – Avant Gardener:  Seeing Barnett live is a whole different experience than listening to the record. It's more lush and upbeat as demonstrated in this Australian's recent Fun Fun Fun Fest performance. This song is the ultimate slacker, panic attack, asthma anthem. It creates a jangly, stream of consciousness picture of a case of the Mondays gone very wrong. Ack.
:Noveller – Into The Dunes:  Instrumental soundscapes of verdant guitar, droney atmosphere all from six strings and a ton of weirdo pedals. Love it. The way Godspeed You Black Emperor taught a generation about Canadian post-rock, Noveller teaches us about accessible noise and will serve as a gateway into more extreme sub genres of soft murmers and thundering peaks. No need for a gnarly beard or a Yoko Ono shirt to get in to this wall of sound. This is for those ready to graduate beyond St. Vincent and hey, guess what – Noveller has been opening for Annie Clark lately! Perfect pairing! Even though there are not any words and the only direction we're given in the title is that of going into dunes, I will gladly admit that I project despair onto this blank, ethereal canvas. The glass is half empty!
:Doug Sahm- Faded Love:  The legendary Texan is being honored at SXSW this year with a documentary about him as well as a tribute show. I'm SO pleased about this Sahm revival that's taken place in 2015! About time! This track is his take on a 1950 Bob Wills and The Texas Playboys classic that Doug brought back to life in 1973 and it might be sacrilegious, but I think Sahm's is the best. Better than Elvis Presley's and better than Patsy Cline's. The best. The tinge of groovy tejano goes a long way in his music and the fact that he's not more widely appreciated is a downright shame. Here's hoping that SXSW can help raise his profile even more.
:Juan Wauters – She Might Get Shot:  This simple little ditty is a tad goofy, but it's slice of life beauty. Portraying a fragile character saying goodbye inherently creates certifiable sad bastard music again – even in the face of goofiness. Not even the canned live audience clapping towards the end can change that.
:Drake – Lord Knows:  This track is produced by SXSW performing artist Just Blaze and it's one of his best – of which there are many and provides the thesis statement to what Drake's all about "I know that showin' emotion don't ever mean I'm a pussy/Know that I don't make music for niggas who don't get pussy/So those are the ones I count on to diss me or overlook me" That's right Drizzy – own that sad bastard tendency and feel free to sing about all your sensitive feelings about how it's lonely to have so many millions and so many pornstars all around you. It's lonely at the top and Just Blaze's masterful beat with gospel singers, tight drums and Rick Ross trademark "URGH" makes it all work! YOLO or whatever y'all.
Spring Breakup Forever! Happy SXSW!
Closing note: Watch the trailer for The Doug Sahm Documentary Sir Doug and the Genuine Texas Cosmic Groove: