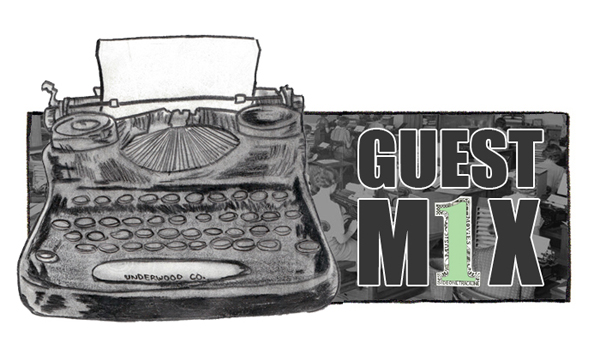 This month's Guest Mix is from Kam Franklin of The Suffers!  The band just played a handful of sold-out shows in support of their new EP, Make Some Room.  If you're not on their bandwagon, you should be.  Enjoy.
—
Hey!  Kam here.  In celebration of The Suffers' EP release, I chose to pick a selection of artists that have worked with, supported and/or inspired me.
—
3d Na'Tee – Do It For The Gram
The Suffers played the ADD52 showcase with 3D Na'tee at SXSW last March. The encounter was brief, but we were incredibly impressed by her flow. She is 100% real, and the world needs more of that. She's absolutely stunning, but raps like a beast. Prepare yourself.
—
Equals – Sweat House
This selection makes me particularly happy because there are so many different connections within the band.  I went to high school with the guitar player Simon McDonald, and I used to be in a ska band with the (now ex) bass player Alex Guzman. It seems like so long ago, but the time away from them has only led me to admire them and their body of work even more so. This song is gorgeous.
—
Fat Tony – No More
This song was put together by a collective of men that I consider to be family. It was written by Fat Tony, produced by Jose Gorbea (aka iLL Faded), and features a guest vocal appearance by Buckamore. All three men are just starting to get the real attention they truly deserve, and I'm excited about everything they have ahead of them.
—
The Very Best – Hear Me
I have a long history with these guys. For those that are unfamiliar with them, The Very Best is a collaboration between London based producer Johan Hugo and Esau Mwamwaya from Malawi.  I went on their first American tour with them years back, and have been following their career ever since. Hear Me with Vampire Weekend's Chris Baio is their first release since their 2012 record MTMTMK.
—
Lyric Michelle – Weekend (la di da di)
Lyric is one of my favorite lyricists and poets. On this track, I feel like she's calling out so many people that have been acting up. Anyone that has chosen to drink or smoke their troubles away instead of dealing with the real issues will definitely understand where she's coming from with this one. The song has so many different levels that may get missed the first time around, but that's okay. That's what the internet is for! Repeat this one if you miss the message the first time around.
—
RX Bandits – Ruby Cumulus
There are few bands I love more than RX Bandits. They main reason I love them is because their music and live show inspired me to step out of my box as a performer. They do what they want to do, how they want to do it, and I respect the hell out of that.
—
Chllngr – Without Yours (Featuring Josiahwise IS THE SERPENTWITHFEET)
At one point, Steve Borth was in RX Bandits. At the time that he was exiting the band, I was slowly falling in love with them. Since I was so eager to hear everything this camp was putting out, be it together or solo, I kept up with his music.  Years later, he created a brand new project that I'm absolutely obsessed with called Chllngr. The harmonies are beautiful, and the soulful but synth-hop production in everything is just ridiculous. He is a truly a creative genius, and this project is wonderful.
—
BLSHS – Gave It Away
Blshs is a Houston based synth-pop trio that makes the kind music that distracts me from whatever it is I should be doing. Michelle's voice is gorgeous, and the band is just all around amazing. In my opinion, the best thing about them, aside from their music, is that they support everyone that supports them. In an industry that is known for not being very nice, that kind of behavior goes a long way.
—
The Tontons – Ruins
This is my favorite song off of the most recent Tontons album. It's very simple, but the song is incredibly moving. It features Asli Omar on vocals with Adam Martinez on acoustic guitar. I like that they kept the video just as simple as the song. Their music is usually much more aggressive, so it was really nice to see this side of them.