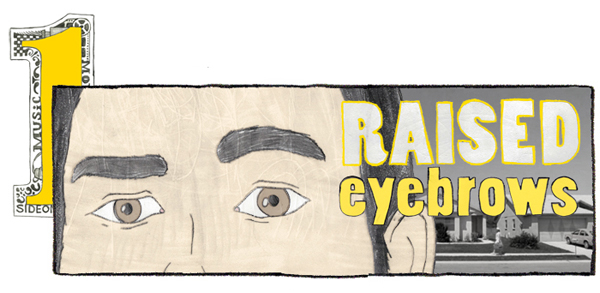 Hey, It's June! Where in the hell did the time go? You ever wonder about all those odd records you see floating around resale shops and vintage stores? The ones that feature photos of strange men and women and incredible fonts. There are many of these kinds of LP's and most of them SUCK, but there are some exceptions. I'm here this month to give a little sample of the ridiculous wealth private press records can offer. Here we go!
Anonymous – J. Rider (from Inside The Shadow)
This LP is a slice of homemade pop/prog/psych heaven. Recorded in Indianapolis in 1976. This was recently reissued by the good folks from Light In The Attic.
Eddie Callahan – Santa Cruz Mountains (from False Ego)
This song is an incredible christian anthem that features a truly serious synth solo. Fans of Chris Bell and Badfinger are encouraged to listen. Time-Lag reissued this puppy not too long ago.
Larry 'Sunshine' Rice – Listen Sister (from Here's Sunshine)
Legend has it that Texan Larry Rice opened up a church dedicated to marijuana in Justin, TX after recording this record in Dallas in 1969. Time-Lag has also made this one available again!
Jandek – Lavender (from You Walk Alone)
Jandek may be the most legendary private press artist EVER. Among his many many LP's, this one stands tallest with it's twin guitar "blues rock" approach. 2012's Maze of the Phantom is also highly recommended. Both are available on Corwood Industries.
Jim Sullivan – Rosey (from UFO)
This record has it ALL: The Wrecking Crew, alien abduction, and INCREDIBLE songs. Read the whole story HERE
Ted Lucas – I'll Find a Way (To Carry It All) (from Ted Lucas)
Known or unknown, this song is simply one of the finest songs written by just about anybody.
Sound Ceremony – Miss Vickey (from Guitar Star)
There's something about this song that makes me want to believe that Alex Chilton used it as reference for his own chintzy classic Like Flies on Sherbert. This song is such cheap boogie and that's cool with me.
Timbercreek – Stone Cold Turkey (from Hellbound Highway)
Heady 1975 Grateful Dead worship from these Laurel Canyon hippies.
Kenny Knight – Carry Me Home (from Crossroads)
This song is all about pain and moving past it in a positive way. It's sort of this Taoist country rock jam that can really puts things in perspective. Paradise of Bachelors reissued this one.
Perry Leopold – And Then, The Snow Came (from Experiment in Metaphysics)
Some fine Guitar Soli and many-a Basho'd vocal.
Steve Tibbetts – Sunrise (from Steve Tibbetts)
Before his career with ECM, Steve Tibbetts released an outstanding recorded-at-home LP in 1977. This was reissued by Cuneiform in 1995.
Bob Desper – It's Too Late (from New Sounds)
A loner folk masterpiece from Portland songwriter Bob Desper. His 1974 album New Sounds was reissued in 2009 by Discourage Records.
David Kauffman / Eric Caboor – Kiss the Day Goodbye (from Songs From Suicide Bridge)
This out-of-time, singular work of art was recorded in 1983 in Burbank, CA. There may be nothing as melancholy and pure as this. It's available through Light In The Attic.
BONUS:
Bill Madison – Low Days Down (from Sunday Mornin' Hayride)