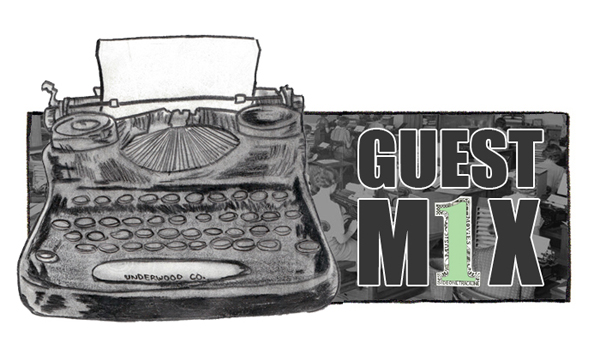 The SOTO staff eats up enough of your time, so every now again we like to bring in a guest.  This month it's The Sour Notes.  Recently the band released an album, Do What May, that you should check out.  See them live at either the Side One Track Presents show at the Blackheart this Friday or at Fun Fun Fun Fest in November.

Hey everybody! This is Amarah from The Sour Notes, and below is a mix of bands that are playing Fun Fun Fun Fest that we want to see!
:Courtney Barnett – Avant Gardener:  Barnett's heavy Australian accent and dry delivery make deciphering her witty lyrics a treat on the recordings. But her live performance is a whole different situation, as her band is amazing and they look like they're having fun! Check out this live KEXP performance at The Triple Door.
:Metz – Wet Blanket:  Metz are from Canada so you already know it's probably going to be awesome. We've all have been wanting to catch them for a couple of years. Oh man you know what would be awesome? A show with A Place To Bury Strangers, Japandroids and Metz. Someone make that happen.
:Angel Olsen – Forgiven-Forgotten:  Olsen started out as a backing singer for the enigmatic Will Oldham, which she recalls as an experience that helped her train her voice, push it to extremes and define it as her own. It's so pretty! She later cut a record with the similarly enigmatic Tim Kinsella. The result is some hauntingly beautiful quirky pop. This bitch ain't no Lana Del Rey, she's got her own ideas and works with cool people.
:Iceage – Morals:  Iceage are a great band from Copenhagen who remind us a lot of The Fall (or at least the vocal delivery). Here is a great review from the Houston Press by Alyssa Dupree that will make you want to make sure you catch their set at FFFFest.
:Yo La Tengo – Last Days Of Disco:  How can anyone not have mad respect for Yo La Tengo? They have been going at it since '84 and in their current formation since '92. That is a long time, you guys. Perhaps you have never gotten into Yo La Tengo because you looked them up and you were like "Whoa okay, too many albums." WELL DON'T THINK THAT, IT'S SILLY. Just jump into the water. This song is probably not very representative of their repertoire, but it's really one of the best songs ever and most likely to make you cry like a little baby, especially when they go "And the song said/Don't be lonely/It makes me lonely/I hear it and I'm lonely more and more/Where I belong, where I belong." Too. Much.
:Neutral Milk Hotel – Song Against Sex:  This is one of the best Neutral Milk Hotel songs.  Their shows at ACL Live got great reviews, so we're sure their FFFFest set will be awesome.
:Dinosaur Jr. – Yeah We Know:  It's cool that J. Mascis' mom knitted him a Deep Wound sweater. Do you think your mom would do that for you?
:Modest Mouse – Dramamine:  People talk a lot of shit about Isaac Brock, but at the end of the day he's still our hero. There's not much room in the music industry for the working class, especially if their songs are all weird and shit. Did you know this motherfucker signed Wolf Parade?! Also, Ugly Cassanova rules too. Here is an indie MTV Cribs-kinda video of someone interviewing him in his house and the person seriously says "Whoa your house is really beautiful" and he is like "Yeah, I know" – it's awesome.
:Yann Tiersen And Shannon Wright – While You Sleep:  Yann Tiersen is the dude that did the Amelie soundtrack. One day a PA was playing a CD on set and Jean-Pierre Jeunet was like "I want that shit in my movie." Also, Shannon Wright is a fantastic songwriter! She is from Atlanta and she used to have this band called Crowsdell.
:Foxygen – Make It Known:  In addition to playing FFFFest, we're also playing Fun Fun Fun Nites! We're opening for Foxygen! It will be rad. Come hang out. It's free if you have a FFFFest wristband.
:Yelle – A Cause Des Garcons:  It's okay to have fun sometimes, you know. Especially with French people!
:Tubeway Army – Replicas:  Tubeway Army was Gary Numan's band before he went solo. Here is a petty cool BBC documentary that mentions him quite a bit.