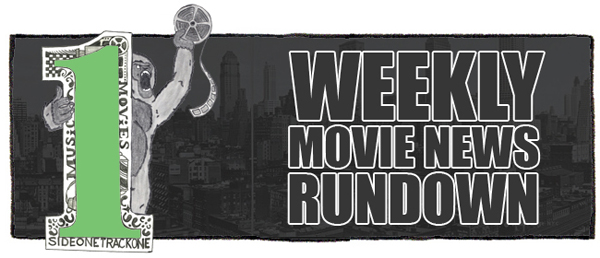 Time for your weekly movie news update!  Below you'll find a slew of sentences meant to provide a brief glimpse of what's been going on over the past week in movieland.  If something leaves you desperate for more info, then my advice is to do a little extra research on one or all of the following fantastic sites:  Latino Review, Dark Horizons, Ain't It Cool News, CHUD and/or JoBlo.  Read on!
Robert Downey Jr. has signed on to appear in Captain America 3.
Dave Bautista (Guardians Of The Galaxy) has landed the role of a henchman (apparently named Hinx) in the next Bond film.
Tom Hardy is reportedly up for the role of the lead villain in X-Men: Apocalypse.
Colin Farrell and Keanu Reeves are now said to be in the running to star in Doctor Strange. Jared Leto, Justin Theroux, Oscar Isaac, Ewan McGregor, Benedict Cumberbatch and Ryan Gosling are also said to be under consideration for the titular role.
Jena Malone is said to be playing Robin in Batman VS Superman: Dawn Of Justice.
Robert Redford is reportedly in talks to star in Disney's remake of Pete's Dragon.
Guillermo Del Toro let it slip that he's already planning for a third Pacific Rim.  The second entry is due in theaters on April 7, 2017.
Warner Bros. is said to be in talks with Will Smith, Tom Hardy, Ryan Gosling and Margot Robbie (The Wolf Of Wall Street) for the adaptation of Suicide Squad.
Scarlett Johansson has reportedly been offered the lead role in Dreamworks' live action version of Ghost In The Shell.  Rupert Sanders (Snow White And The Huntsman) is set to direct.
Fantastic Beasts And Where To Find Them will be released on November 18, 2016, and the following two films in the Harry Potter spin-off trilogy will be out in 2018 and 2020.  David Yates is expected to direct.
Ryan Gosling may star in The Secret Life Of Houdini for Dean Parisot (Red 2).
Christian Bale is said to be the top choice to replace Leonardo DiCaprio in Danny Boyle's Steve Jobs biopic.
Pedro Pascal (Game Of Thrones) may portray Pontius Pilate in the Ben-Hur remake.  Also, Gal Gadot has reportedly landed the lead female role in the film.
Javier Bardem is in talks to be the villain in Pirates Of The Caribbean 5: Dead Men Tell No Tales.
Warner Bros. and New Line Cinema have officially released their DC-centric schedule:
Batman VS Superman: Dawn Of Justice (2016)
Suicide Squad (2016)
Wonder Woman (2017)
Justice League: Part One (2017)
The Flash (2018)
Aquaman (2018)
Shazam (2019)
Justice League: Part Two (2019)
Cyborg (2020)
Green Lantern (2020)
This Week's Notable Trailers