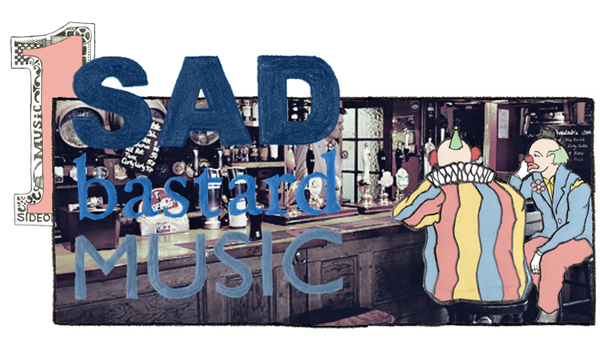 Oh, hello there. I didn't see you sitting there. Please pop a squat on a throne of dried up, used Kleenex and let me take you on a journey of sad bastard music. This monthly column showcases the deepest cuts of music's misery and lonesomeness spanning from songs of cheating to murder to destitution and an abundance of general heartbreak.
Let's begin, shall we?
:The Get Up Kids – Regret:  My favorite types of sad songs are the ones that are actually upbeat and danceable. It is sorta the way that guy Sting probably gets his rocks off whenever a newly married couple has their first dance to Every Breath You Take, when it's actually a supercreepy stalker anthem. I digress, the protagonist in this cover version of the 1993 New Order classic tries to assure himself and the world that he is capable of not being a sadsack. He's trying to convince the world that he is capable of being normal when for whatever reason he is broken. Some fans claim it's about the notion of celebrity, but I like to think it's just from a relationship gone wrong. I have always been confused here on if it's OK to feel uplifted by this song or it's not, but in this situation where it's being covered by the Get Up Kids on their compilation album Eudora, there is no question that the scale tips towards the sad bastardness.
:Rilo Kiley -  Glendora:  "I cry, cry, cry, then I complain, Come back for more, do it again." This song is about a sad girl in a bad situation in a California town of Glendora. She's all dressed up and headed in a downward spiral. She is awkwardly sexually confused and needing validation so desperately that she is pressured into a weird sex thing but allows herself to be subjected to it because … it's confirmation of existence. The Californian hero's lack of self-confidence and consequent bad decisions is something that happens all across America, but somehow it seems more fitting in the LA area of California. All this darkness is set to the one of the most upbeat and poppy Jenny Lewis songs there is, making a juxtaposition that backs up that she's the undisputed best for a reason. Her new album The Voyager (produced in part by Beck!) is coming soon! July 29th!
:Ben Folds – Still Fighting It:  I had waited on baited breath between the final Ben Folds Five album in 1999 and the first Ben Folds solo record, and on 9/11, 2001 when Rocking the Suburbs was released (great timing!) I was satiated. It is still one of my favorites. That record covers all the Ben Folds bases that fans have come to expect: the upbeat stompers and the crushing low joints. Still Fighting It is straight up bittersweet as Folds prepares his son for the realities of life, specifically adolescence. Everybody knows it sucks to grow up … but the line that always gets me is "And you're so much like me, I'm sorry."
:Dolly Parton – Jolene:  Posting this MP3 is really just a public service of sorts so you can have it in your iTunes and thus you have a digital representation of one of the greatest songs of all time. It's been covered thousands of times (including by ol Billy Ray Cyrus' daughter) but you need the original 1973 – that's whats up. Oh also – have you heard the conspiracy theory that Dolly is covered in tattoos under her clothes? It's a good one.
:Phosphorescent – Can I Sleep In Your Arms:  This cover (originally written by Hank Cochran and performed by Sir Willie Nelson) from a live KEXP taping achieves the same sparse majesty that Cat Power does with her Covers Record – in the true power of a cover, it reinterprets the source material with a unique and fresh twist. Originally the song's character first confessed desolation, heartbreak and loneliness to the his lady friend in 1973, but the 2011 Phosphorescent version proves that when the one you love leaves you "lonely an' cold an' so weak" it's still a monster. Phosphorescent teaches us all that you don't even need a pedal steel – you can just use your voice!
:Mineral - & Serenading:  Here's a song that deals with growing up and learning more and more about yourself and the reality of the world as it relates to loss of faith. Or maybe it's about just becoming jaded by adulthood and losing the magic of being a child. It sucks to grow up either way. & Serenading is a beautiful track from 90's indie/emo echelon and is one of their many that makes me thrilled for the band's first show since 1997 at this year's Fun Fun Fun Fest. Rejoice! I will be there front and center to see them for the first time. "When I was a boy I could hear Symphonies in seashells. So why am I so deaf at twenty-two?"
:The Pouges - The Band Played Waltzing Matilida:  This is the standard last song that gets played each month at the No Dancing Sad Bastard Music DJ nights because it's the only song that the bar back at the Volstead likes. Eight minutes of lyrics about war, death, and haunted memories is a great way to clear a bar. But what happens sometimes is the linking of arms and singing along like a bunch of scallywags. Seriously – this is one of the most crushing war is hell songs of all times. "And when I woke up in my hospital bed, And saw what it had done, I wished I was dead, Never knew there were worse things than dying … No more waltzing Matilda for me"
SONG OF THE MONTH:

:JJ – When I Need You:  The new JJ album V comes out August 19th and, as expected, is chock full of sadandsexyjams to the infinite degree. It's that voice. Here's a song about longing for a lover that you're not supposed to long for. The painful dreams from a bed of sorrow that result and hating to see someone leave and loving to watch em go. The whole record is as fantastic as you'd expect it to be. Check out the (insane!) trailer for it below.
PS – Thank you to everyone who has been coming to America's BEST night of all sad pop songs in Austin for the past year. NO DANCING: Sad Bastard Music celebrated it's one year anniversary at the Volstead with commemorative Kleenex boxes, a specials guest set from Chris Simpson from Mineral/The Gloria Record/Zookeeper, a Hugging Booth and there were even tear drop cupcakes! Remember everyone – NO DANCING.