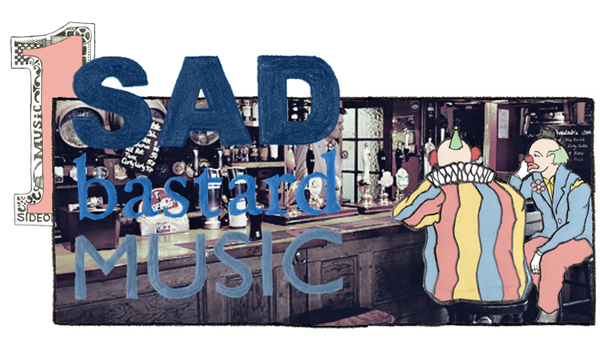 The sadder the song, the better the song – that's the motto
Welcome to the latest in a monthly installment of your round up for the perfect sad bastard songs for most any occasion. You know how sometimes you just need to NOT hear a Lil' Wayne remix but rather an alternate recording of Sounds of Silence? Yes! Let's do that sort of thing! Pour yourself some cold whisk and crack the cardboard on a fresh box of Kleenex for the latest in great songs of misery, lonesomeness and significant others getting new significant others!
:The Last Names – You Don't Own Me:  The Last Names are the project of the adorable couple Justin Rice (of Bishop Allen fame) and Darbie Nowatka (radical designer and also of Bishop Allen). In 2012 they set off on a goal of the self-explanatory 52 Covers which yielded wonderful results notably here with the cover of 60's girl pop queen Leslie Gore's You Don't Own Me. While the original song is empowering and may or may not have helped lead to the second wave feminist movement, it's somber re-working here by the Last Names makes the self-confidence bolstering and assuring empowerment all the more necessary from a distressing situation. Get all 52 covers they recorded together for free HERE.
:The Weakerthans – Left and Leaving:  Ah, the Weakerthans. This is from John K. Samson, (Propaghandi!) who put out his second softer, more emotional and literary venture in 2000 called Left and Leaving. Picking a single song off this record is a tricky task so I'll go with the titular one. Here in this song the passage of time after a breakup is explored in poetic minutia, right down to the throwing away of once cherished birthday cards from a past life. Urgh.
:The Beach Boys – I Just Wasn't Made For These Times:  "Sometimes I feel very sad." Depression, alienation, and theremins! God bless Brian Wilson and the Beach Boys! The struggle is real for this Pet Sounds protagonist here who likely is a projection of Brian Wilson himself. It's safe to say that he hasn't always had the most healthy mental state of mind in his days. In fact it's common knowledge that this surfer boy wiped out and suffered multiple nervous breakdowns while crafting some of the most perfect songs … well … ever. He just wasn't made for those times … God only knows that bringing barking dog sounds and sci-fi Russian antennae box instruments into the studio coupled with crippling doubt, pressure and despair can make a guy feel out of place. This is just one of many beautiful, beautiful songs on that record and I love it.
:Chad And Jeremy – A Summer Song:  This is one of those interesting ones that at a casual bird's eye listen could be confused as a happy song. It's got a riffy little poppy hook, it's got swelling strings, horns, Chad and Jeremy harmony talking about summer days and dreams but really it's a song about loss and remembrance of a brief summer romantic fling. It's simple in that there's only a few chords but the aural flourishes of other instrumentation elevate this song to an above average 1964 song. Hey so much so that it made the soundtrack for Rushmore. "They say that all good things must end some day"
:Del Shanon – Two Silhouettes:  This 1963 cut is basically the moment in Biz Markie's Just A Friend when his heart goes down south for a whole song. "Two silhouettes on the window shade, Has caused each dream I had to fade, I started walking up to your door, Turned around, (turned around), What's the use, (what's the use), You don't love me anymore"
It never charted in America but it's a good simple, short sad track that is one of my many favorite Del Shannon songs.
:Trisha Yearwood and Aaron Neville – I Fall To Pieces:  Originally by the great sad bastard song queen Patsy Cline, this version is from a compilation called Rhythm, Country and Blues that pairs country singers with … you guessed it, R&B stars. The lyrics here are simple and truly heart crushing. "… each time I go out with someone new, You walk by and I fall to pieces …" The delivery in this version from Yearwood and Neville is wildly good. I promise. I know it's not "cool" to post Trisha Yearwood songs on a blog with such hip credibility such as Side One Track One but I'm pushing that goddamn envelope.
:Me First and the Gimmies Gimmies – Speechless:  This Lady Gaga cover appears on the punkers lastest (brilliantly titled) album Are We Not Men? We Are Diva! After the boy left the girl the girl vows to never talk or love again. How could she? Most people I guess already know this as a wildly popular Lady Gaga song but I have to confess I still haven't heard the original but this cover does it for me in a fun way.  With their takes on Cher, Dolly and a ton of other lady icons this pop punk record is surprisingly summer jamable and along the way touches on some quality sad cornerstones as well. Also note the solid homage to the Dead Boys' Sonic Reducer which can also be found as the hook in the Beastie Boys An Open Letter to NYC.
SONG OF THE MONTH
Lykke Li – No Rest For The Wicked
She's back! I was lucky enough to help with Lykee Li's very first US show during SXSW of 2008 in a Birds Barbershop parking lot. It's a special memory because I've so enjoyed seeing her career flourish and get more and more acclaim and realize that I am not the only super fan out there. She's been thru heartbreak and she's got that special knack for capturing brokenness and above all making great breakup albums. Her new album I Never Learn is out now and is fantastic. The proof is in this video!
"I let my true love die
I had his heart but I broke it every time
Lonely I, I'm so alone now"
NO DANCING!