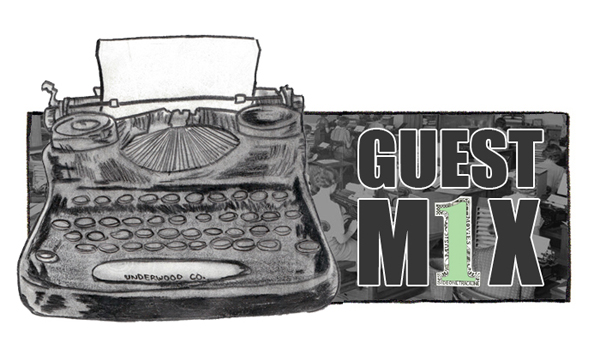 The SOTO staff is big and mighty, but every now again it's fun to bring in a guest.  This month it's Josh Denslow of Borrisokane.  See his band play the next SOTO PRESENTS show at the Blackheart on May 30.
—
HIDDEN GEMS
The other day I opened my glove box and there, amidst the charger for my phone, my insurance card, and a ticket I never paid, was a half full bag of Twizzlers. What an amazing discovery. It was as though my car had become sentient while I was trapped at my desk and had popped over to the grocery store to pick up the very thing I needed for my drive home. Let's see the car from Knight Rider do that.
Or how about this: After two months of using a video baby monitor (yes they make those and yes, they look like outtakes from Paranormal Activity) my wife's brother stopped by for dinner and he pulled a little kickstand from the back of the unit and propped it on the table like a little TV. My wife and I looked at each other with shock. We had no idea that it did that.
Sometimes the things with which we are most familiar will yield unexpected surprises.
A year after you pick all of your favorite songs on an album, you might discover a hidden gem buried at the end of the track list. Or perhaps you disliked an album, and then the shuffle on your iPod reintroduces you to one of that album's overlooked treasures. Or, as with Fiona Apple's Extraordinary Machine, there was a completely different version of the album that had been shelved and was only available as a bootleg.
My mix is in honor of those underdog songs. The ones that have the patience to wait for you to finally find them.
—
:TV On The Radio – DLZ:  Inexplicably buried at the end of Dear Science, this is probably my favorite song the band has ever done.
:The Antlers – Putting The Dog to Sleep:  The last song on Burst Apart and their most accomplished. It gained popularity a bit after the album came out, I think because everyone discovered it at the same time.
:Yeasayer – Rome:  This band only succeeds 50% of the time, but never as successfully as this. Why isn't this the first song on Odd Blood?
:Fiona Apple – Not About Love (Jon Brion Version):  The Jon Brion produced version of Fiona Apple's Extraordinary Machine may have been shelved, but I thank the music gods for allowing me the opportunity to hear this recording of Not About Love. Raw and alive, I still get chills when I listen to it.
:Tom Waits – Lucky Day:  Tom Waits is one of my favorite artists of all time, but I don't like the Black Rider soundtrack. There I said it. But right at the end of this mess is the song Lucky Day and I didn't even know about it until I saw him perform it live a few years back. Now it shows up on all my Tom Waits mix CDs. And yes, I make a lot of those.
:Wolf Parade – This Heart's On Fire:  The last song on their first and most popular album, it's the most emotionally resonant thing they've ever done. In fact, my wife and I included a lyric from this song in our wedding invitations.
:St. Vincent – Dilettante:  Everyone liked Strange Mercy, but I didn't know how much I liked this track until I shuffled all of her songs on Spotify when the new album came out.
:Islands – I Feel Evil Creeping In:  Arm's Way was a huge disappointment of a second album. Years later, I decided to give it another shot because I was a fan of everything after it. Still a major disappointment. But I'm glad I slogged through because this is the last song on the album and it's more than worth it.
:Future Islands – Fall From Grace:  This is the next to last song on Singles, and I predict it will not be a single. But it features the most growling on the whole album and I can't get enough of it.
:Man Man – Top Drawer:  I've noticed a small decline in Man Man albums, but I remain a fan. I give each new offering a real shot and I always find something to like. But this little gem from the latter half of Rabbit Habits is probably the best thing they've done since Six Demon Bag.