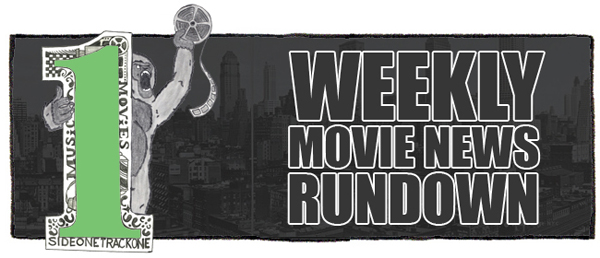 Time for your weekly movie news update!  Below you'll find a slew of sentences meant to provide a brief glimpse of what's been going on over the past week in movieland.  If something leaves you desperate for more info, then my advice is to do a little extra research on one or all of the following fantastic sites:  Latino Review, Dark Horizons, Ain't It Cool News, CHUD and/or JoBlo.  Read on!
Rumor has it that there's a plan for Star Wars films through 2020. Aside from Episodes VII-IX, the other entries are said to be centered around Boba Fett, Han Solo and Red Five (Skywalker's call sign in the Rebel Alliance).
It's being reported that Maisie Richardson-Sellers and Katie Jarvis have landed roles in Star Wars: Episode VII.
Universal and Legendary are rumored to be working on a film based on Namor: The Submariner.
Harrison Ford has officially been offered the role of Deckard in Blade Runner 2.
Edgar Ramirez (Carlos) is set to replace Gerard Butler in the Point Break remake.
Kathryn Bigelow is set to direct an adaptation of Anand Giridharadas' The True American: Murder And Mercy.  Tom Hardy will star in the film.
Nicholas Winding Refn (Drive) is in talks to direct the horror thriller The Bringing.
Marvel is said to be considering Zac Efron for a role in their next phase of films.
Roberto Orci has officially signed on to direct Star Trek 3.
Ridley Scott may direct The Martian.  Matt Damon is set to star in the film about a man stranded on Mars.
Channing Tatum is reportedly set to portray Gambit in X-Men: Apocalypse.
David Bautista and George St. Pierre have signed on to appear in the Kickboxer remake.
Nicholas Hoult (X-Men: Days Of Future Past) and Emilia Clarke (Game Of Thrones) are set to portray Bonnie and Clyde in the adaptation of the book Go Down Together: The True, Untold Story Of Bonnie And Clyde.
Will Ferrell and Zach Galifianakis are set to star in Richard Linklater's Larry's Kidney.  The film is said to follow a man who must travel to China to help his black-sheep cousin Larry receive an illegal kidney transplant, collect a mail-order bride, and stop a hit-man from killing their uncle.  The two are also said to be working on another comedy titled Will.
The Coen Brothers will next direct Hail Caesar.  Set in the 50s, it will center around a man who works for a movie studio.
Aaron Johnson recently noted that there are no current plans for Kick-Ass 3.
The Harry Potter spinoff Fantastic Beasts And Where To Find Them is due out in 2016.
John Hurt may star in Terry Gilliam's long troubled The Man Who Killed Don Quixote.
Chiwetel Ejiofor and Gwyneth Paltrow are set to star in the remake of Argentinian foreign-language Oscar winner The Secret In Their Eyes.
This Week's Notable Trailers