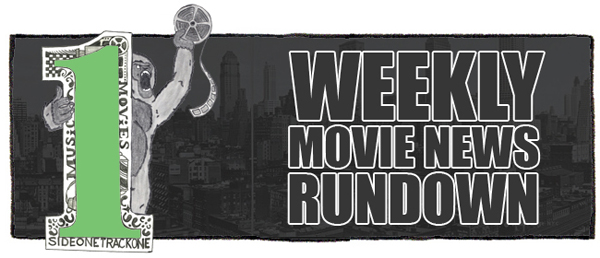 Time for your weekly movie news update!  Below you'll find a slew of sentences meant to provide a brief glimpse of what's been going on over the past week in movieland.  If something leaves you desperate for more info, then my advice is to do a little extra research on one or all of the following fantastic sites:  Latino Review, Dark Horizons, Ain't It Cool News, CHUD and/or JoBlo.  Read on!
Jesse Plemons (Breaking Bad, Friday Night Lights) is reportedly in the running for a lead role in Star Wars: Episode VII.  Michael Fassbender, Hugo Weaving, and Adam Driver (Girls) are also rumored to be involved with the film.
Gerard Butler is set to star in the remake of Point Break.  Ericson Core (Invincible) will direct.
Alejandro Gonzalez Inarritu is no longer set to direct The Jungle Book for Warner Bros.  He apparently had scheduling conflicts.
Rupert Friend (Homeland) has signed on to replace Paul Walker in the Hitman reboot, Agent 47.
Matt Reeves will return to direct the next Planet Of The Apes entry.
Joe Cornish (Attack The Block), Rian Johnson (Looper), Andy Muschietti (Mama), Kirk DeMicco/Chris Sanders (The Croods), and Phil Lord/Chris Miller (21 Jump Street) are reportedly in the running to direct Masters Of The Universe.
Eddie Murphy, Marlon Wayans, and Michael B. Jordan are said to be up for the lead role in Lee Daniels' Richard Pryor biopic.
Elijah Wood will star in Set Fire To The Stars.  It follow the relationship between John Malcolm Brinnin and Dylan Thomas.  Andy Goddard (Downton Abbey) will direct.
Bruce Willis has replaced Arnold Schwarzenegger in Captive.
Aubrey Plaza, Jeff Goldblum, and Oliver Platt have joined the cast of David Koepp's Mortdecai.  Johnny Depp is already set to star in the movie about an art dealer trying to get his hands on some gold.
Mark Romanek will direct Casey Affleck in a movie based on Albert DeSalvo (aka The Boston Strangler).
Jai Courtney (Jack Reacher) and Boyd Holbrook (Out Of The Furnace) are said to be the top two contenders to play Kyle Reese in the new Terminator film.
Quentin Tarantino has announced that the title of his next film is The Hateful 8.  It's a western.
This Week's Notable Trailers