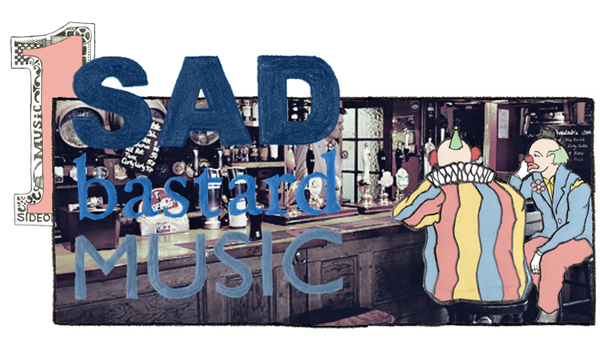 "Nobody worries about kids listening to thousands, literally thousands, of songs about heartbreak, rejection, pain, misery and loss. Did I listen to pop music because I was miserable? Or was I miserable because I listened to pop music?" – Rob Gordon//High Fidelity
Preach it brother Rob!!!
Welcome to the inaugural monthly column of a currated Sad Bastard Music that will most certainly change the landscape of internet music blogs as we know it. For the past 7 months I've thrown a night at the Volstead here in Austin Texas called No Dancing: Sad Bastard Music that focuses on nothing but songs of heartbreak, misery and generally no good, very bad days. It's a blast! Getting people together to wallow in a sea of whiskey, beer and Hank Williams is a special thing and I'm flattered to be here on your computer screen right now to tell you more about it. I pledge to bring you a reasonably depressing mix of the best in Sad Bastard Music pulling from soul, pop, country and Kleenex-core* (*patent pending) to highlight an audio blend of perfect mopeyness.
This month's melancholia starts off with the Man In Black and ends with later day Chubby Checker from his lesser known 1971 psychedelic record Chequered which is a giant leap from his well known Twist steez. Along the way we'll visit Blake Schwarzenbach's softer side from his JTB moniker, Boston's Modern Lover and 1 of the great 69 love songs. Sprinkled in there is my favorite Cat Power song lately and a holiday song from Tom Waits that is ideal to cringe in it's tragedy any ol' time of the year. Enjoy these Sad Bastard toonz!
Jaded January Mix:
:Johnny Cash – On The Evening Train:
:Del Shannon – World Without Love:
:Jets to Brazil – Further North:
:Jonathan Richman – True Love Is Not Nice:
:The Magnetic Fields – Meaningless:
:Cat Power – Good Woman:
:Tom Waits – Christmas Card From A Hooker In Minneapolis:
:Chubby Checker – Goodbye Victoria:
Song Of The Month:
Also, I'll be featuring a newish Song of the Month here in this space. Tim Kasher is the man that brought up classic sad bastard jams with his Cursive and the Good Life projects and also recently released his second solo record entitled Adult Film. Kasher is a tortured soul that can craft a tortured rock song no doubt about it, with A Raincloud Is A Raincloud he achieves one of the harder things to do while working with sad song devices, which is, to make it poppy and upbeat. Here, we've got tambourines, synthesizers and a catchy sing-along chorus … which so just happens to center around the inevitable demise of relationships. The self-reflexive mixed metaphors carry both the heavy "why bother" and the "what if" messages which climaxes with the wink wink to the fact that the character has lost an child. OUCH! But, you know what – why bother being bummed about it? Let's tap our feet and singalong because a raincloud is a raincloud.
:Tim Kasher – A Raincloud Is A Raincloud:
"Like" NO DANCING on Facebook HERE! Come out to the next installment in REAL LIFE on February 11 at the Volstead!