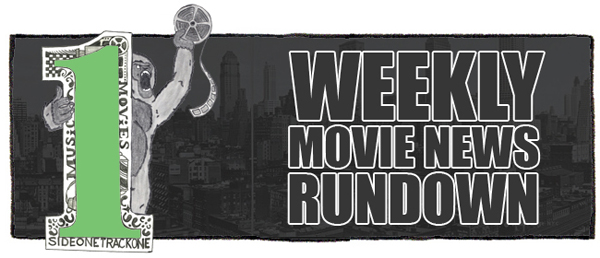 Time for your weekly movie news update!  Below you'll find a slew of sentences meant to provide a brief glimpse of what's been going on over the past week in movieland.  If something leaves you desperate for more info, then my advice is to do a little extra research on one or all of the following fantastic sites:  Latino Review, Dark Horizons, Ain't It Cool News, CHUD and/or JoBlo.  Read on!
Adam Driver (Girls) is reportedly being considered for the role of Nightwing in Batman VS Superman.  Gal Godot (Fast & Furious), Elodie Yung (GI Joe: Retaliation), Olga Kurylenko (Quantum Of Solace), and Jamie Alexander (Thor) are said to be in the running to play Bruce Wayne's love interest.
Sin City: A Dame To Kill For is now set to be called Sin City: A Dame To Die For.
Star Wars: Episode VII has been given the official release date of December 18, 2015.
Dwayne Johnson is set to star in an adaptation of Seal Team 666.  The book follows a SEAL team that specializes in taking down otherworldly creatures.
Jon Favreau has signed on to direct a live action version of The Jungle Book for Disney.
James DeMonaco is reportedly set to return to write and direct a sequel to The Purge.
James Mangold will reportedly return for another Wolverine movie.
Gerard Butler and Vin Diesel may star in an adaptation of the game Kane & Lynch.  F. Gary Gray is set to direct.
Tom Hardy is reportedly director Alan Taylor's (Game Of Thrones) preferred choice to play John Connor in Terminator 5.  Emilia Clark (Game Of Thrones), Brie Larson (21 Jump Street), and Margot Robbie (The Wolf Of Wall Street) are up for the role of Sarah Connor.
Justin Lin (Fast & Furious) is set to direct Jeremy Renner in the sequel to The Bourne Legacy.
Robert Pattinson has signed on to star opposite of Benedict Cumberbatch in The Lost City Of Z.
Jonah Hill and Emma Stone may star in Ghostbusters 3.
Jesse Eisenberg and Kristen Stewart will star in American Ultra.  The movie will reportedly follow a stoner and his girlfriend on the run from the government.
Ridley Scott will direct a currently untitled movie about pro football players and concussions.
Lionsgate is reportedly looking at putting together Saw 8.
This Week's Notable Trailers