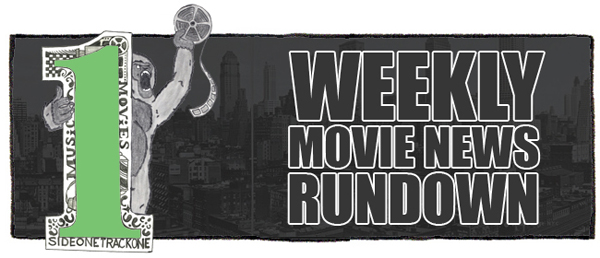 Time for your weekly movie news update!  Below you'll find a slew of sentences meant to provide a brief glimpse of what's been going on over the past week in movieland.  If something leaves you desperate for more info, then my advice is to do a little extra research on one or all of the following fantastic sites:  Latino Review, Dark Horizons, Ain't It Cool News, CHUD and/or JoBlo.  Read on!
Aaron Johnson (Kick Ass) is said to be the top contender for the role of Quicksilver in The Avengers 2.
Mel Gibson may be the villain in The Expendables 3.
Denzel Washington may star in Shovel Ready, which is said to be about a man who decides to protect the girl he was hired to kill.
Nikolaj Coster-Waldau (Game Of Thrones) is in talks to star in Gods Of Egypt for director Alex Proyas.  The film will apparently follow a common thief who teams up with Gods for a magical quest.
Javier Bardem has signed on for roles in The Gunman and A Most Violent Year.  Not much is known about the latter, but the former will center around a hitman who is trying to get out of the game.
Mia Wasikowska (Stoker) may replace Emma Stone in Guillermo Del Toro's Crimson Peak.  Stone left due to scheduling conflicts.
Benicio Del Toro has landed a role in Guardians Of The Galaxy.  It's rumored that he'll be playing Taneleer Tivan, The Collector.
Penelop Cruz is said to be close to signing on for a role in the next Bond film.
Christoph Waltz may star in True Crimes for director Roman Polanski.
Tom Hardy will star in The Outsider, which is the English language debut of director Takashi Miike.  The film will center around an American soldier who joins the Yakuza post-WWII.
John Cusack won't be returning for Hot Tub Time Machine 2, but Chevy Chase, Rob Corddry, Craig Robinson, and Clark Duke have signed on.
Warner Bros. recently struck a deal to make an Archie movie.  Rumor has it that it'll be based on the upcoming Afterlife With Archie comic, which deals with Archie trying to survive a zombie epidemic.
Roland Emmerich is said to be looking at directing an alien invasion film titled Emergence.
Steven Spielberg may direct Daniel Day-Lewis in Thank You For Your Service.  It will reportedly deal with PTSD for soldiers returning from Iraq and Afghanistan.
This Week's Notable Trailers