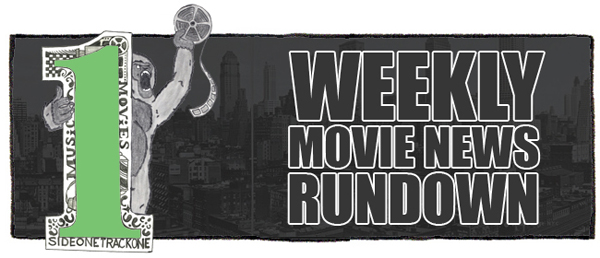 Time for your weekly movie news update!  Below you'll find a slew of sentences meant to provide a brief glimpse of what's been going on over the past week in movieland.  If something leaves you desperate for more info, then my advice is to do a little extra research on one or all of the following fantastic sites:  Latino Review, Dark Horizons, Ain't It Cool News, CHUD and/or JoBlo.  Read on!
Disney is reportedly working on a remake of the 70s sci-fi flick The Black Hole.  Joseph Kosinski (Oblivion) is attached to direct.
Benedict Cumberbatch and Jessica Chastain have joined the cast for Guillermo Del Toro's Crimson Peak.  Emma Stone and Charlie Hunnam are also set to appear in the film.
Bella Heathcoate (Dark Shadows), Lily James (Downton Abbey), and Margot Robbie (Pan AM) are said to be in the running to play the lead in Disney's remake of Cinderella.
Brad Pitt may star in Fury for David Ayer (End Of Watch).  The film is said to be set in WWII.
Richard Linklater will direct A Walk In The Woods, which will star Robert Redford and Nick Nolte.  The film is reportedly based on Bill Bryson's memoir.
Zoe Saldana may play the character Gamora in Guardians Of The Galaxy.
Will Arnett has joined the cast of Ninja Turtles.
Tim Burton will direct Christoph Waltz and Amy Adams in Big Eyes.  The movie is said to be based on Margaret and Walter Keane, who in the 50s and 60s created one of the first mass marketed art sensations.
The Finding Nemo sequel will officially be called Finding Dory, and it's due out on November 25, 2015.
A GI Joe 3 is said to already be in the works.
Bradley Cooper is all set to be the villain in Jane Got A Gun.  The film already stars Joel Edgerton and Natalie Portman.
Justin Lin has bowed out of directing Fast & Furious 7.  His rumored replacements are Jeff Wadlow (Kick Ass 2), Brad Furman (The Lincoln Lawyer), and Harald Zwart (The Karate Kid).
Renny Harlin has cast Kellan Lutz (Twilight) as the lead in Hercules 3D.  Side note, this project is different than the Brett Ratner-directed Hercules film.
This Week's Notable Trailers