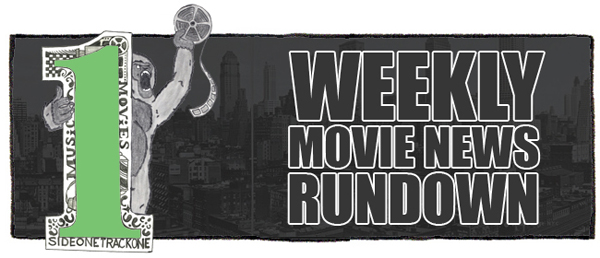 Time for your weekly movie news update!  Below you'll find a slew of sentences meant to provide a brief glimpse of what's been going on over the past week in movieland.  If something leaves you desperate for more info, then my advice is to do a little extra research on one or all of the following fantastic sites:  Latino Review, Dark Horizons, Ain't It Cool News, CHUD and/or JoBlo.  Read on!
The original writers of the two Bill & Ted movies have put together a third entry in the series, and they're reportedly looking for financiers.  Dean Parisot (Galaxy Quest) is attached to direct, and Keanu Reeves and Alex Winter are expected back.
Justin Theroux (Tropic Thunder) has signed on to write and direct Swear To God.  Set to star Will Ferrell, the movie will follow a man who's convinced he's seen God in person.
Saorise Ronan (Hanna) will star in Mary Queen Of Scots.
Heather Graham is reportedly set to return for The Hangover: Part III.
Sean Penn is set to direct Crazy For The Storm.  It will be based on the memoirs of Normal Ollestead.
There's a chance that Amber Heard may replace Kirsten Stewart in Cali.  The movie is said to involve a guy and a girl trying to find/save their sister.
Sony is set to attempt bring ALF to the big screen.  The guys responsible for Smurfs movies will oversee the production.
Ben Affleck is being rumored as Warner Bros. preferred choice as the director for a possible Justice League movie.
Ryan Reynolds will star in Queen Of The Night, which is about a father who discovers his missing daughter of eight years may still be alive.
Joss Whedon has officially signed on to write and direct The Avengers 2.
There's a rumor going around that Fox wants to trade Marvel the Silver Surfer and Galactus characters for the extended rights to Daredevil.
Keira Knightley is reportedly close to signing on to play the wife of Jack Ryan in the next entry based on the famous character.  Chris Pine is set to star.
Jesse Eisenberg, Dakota Fanning, and Peter Sarsgaard will star in Night Moves.  The movie is said to follow three eco-terrorists who plan to blow up a bridge.
Justin Lin is in negotiations to direct LA Riots.  It would cover the violence that ensued after the Rodney King trial.
This Week's Notable Trailers