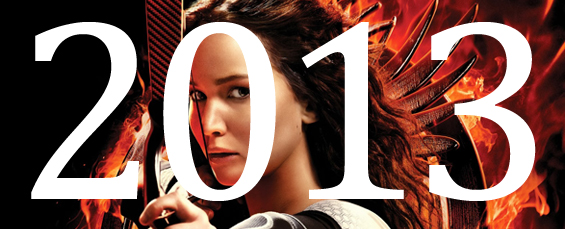 This bit of fun is coming to you a little later than usual, and it's because I was waiting for Her and trying to see a few other films I had missed.  It sort of worked out, as I managed to pretty much catch everything I wanted to except for Captain Phillips, Blue Jasmine, and The Spectacular Now.  Oh well.  In any case, allow Noah and myself to each run down what we thought were the Top 10 Films of 2013.  Enjoy.
John's Top 10 Films Of 2013
10) The Hunger Games: Catching Fire

I was totally surprised by not only how much I loved this movie, but the way it stuck with me long after I had left the theater.  This film is the Empire Strikes Back of the Hunger Games series.
09) Grand Piano

Elijah Wood stars in this 2013 Fantastic Fest standout that I thought was one of the more outright entertaining and memorable thrillers I'd seen in quite a while.
08) This Is The End

Normally a movie packed with inside jokes and bits that never seem to end isn't worth your time, but this one is totally spectacular.
07) American Hustle

Just a total mess of a film with a ridiculous story and even more ridiculous characters, but I loved it.
06) The World's End

Edgar Wright absolutely nailed the finale to the Corentto Trilogy.  I'm going to greatly miss the output that results from Wright, Simon Pegg, and Nick Frost working together.
05) Mud

There were some great coming of age movies in 2013, but this one was the absolute best.
04) Her
When it comes to love stories, rarely does it get better than what Spike Jonze did with this film.  I'll definitely be pulling for Scarlett Johnansson come nomination time.
03) Before Midnight

I've been following the story of Jesse and Celine for nearly 20 years, and this was a more than fitting way to bring everything to a close.  Thank you, Richard Linklater.
02) Wolf Of Wall Street

There's not a lot of story or character development to be had in this Scorsese flick, but who cares!  It just wants to show you what real excess and greed looks like, and it does just that until you're exhausted from it all.  I had a blast watching it.
01) Gravity
Alfonso Cuaron is now responsible for two of my favorite movies ever – this one and Children Of Men.  Not only is he a brilliant storyteller, but what he puts on the screen never fails to completely dazzle me.  On a related note, this and not The Blind Side is the best thing Sandra Bullock has ever done.
Before I go, big ups to 12 Years A Slave, Nebraska, Dallas Buyers Club, Blackfish, and Inside Llewyn Davis for being superb films that I can't ever imagine watching again.  Also, much love to some other flicks that entertained me a lot in 2013 – Riddick, Pacific Rim, Fast And Furious 6, Iron Man 3, Star Trek: Into Darkness, Drinking Buddies, Man Of Tai Chi, Journey To The West, Big Bad Wolves, The Secret Life Of Walter Mitty, Oblivion, You're Next, Side Effects, Trance and The Hobbit: The Desolation Of Smaug.  Oh, and for good measure, know that I dug the coming of age-themed The Way Way Back, Stoker, and The Kings Of Summer, and that I adored the love stories in Warm Bodies, Mood Indigo, and About Time.
———-
Noah's Top 10 Films Of 2013
Let's say this: I had a pretty shitty year in the theater. Not because I wasn't wowed and astounded by a hefty selection of films, but because life, sweet, soul-crushing life, and all the myriad responsibilities that come with it. I saw far below 50 films this year, and to be quite honest, my dedication to really getting out there and seeing everything only flared to life as the year crumbled to a quiet stop.
Look at this list though! Look at those directors! When's the last time when my entire End 'o' Year Spectacular was filled with only movies but masters of the medium? Scorcese! Coens! Greengrass! It's a veritable who's who of film geniuses (and Seth Rogen), all on one list!
What does this mean? It was a pretty killer year for cinema. Oh, sure, Hollywood continues it's unmitigated spiral in to video game dynamics and tear-jerking schlock, but somehow, someway, all of these amazing creators were able to do just that this year, push through the shit and get it done.
Somebody please, wheel 2014 in.
10) Captain Phillips, d. Paul Greengrass
Captain Phillips has a lot of things going for it – amazing action, a beautiful nuanced telling of this crazy story, some of the best Somali pirate acting of all time – but without the directorial skill of Greengrass and the heart-wrenching performance by Tom Hanks, it'd be just another pirate movie.
09) Blue Jasmine, d. Woody Allen
Woody Allen won't ever be "Woody Allen" again, but if he continues to make films like this in the twilight of his life, sign me up. Cate Blanchett is brilliant, sad, and evil in this teary-eyed comedy about the rich getting poorer.
08) Pacific Rim, d. Guillermo del Toro
No other film entertained me more this year. No other film made me pump my fist with glee more. No other film had sword fighting robots squaring off with hammer-headed monsters.
07) This Is The End, d. Seth Rogen
Seth Rogen is the real deal. We all know that now.
06) 12 Years A Slave, d. Steve McQueen
Steve McQueen's sashay in to Hollywood is 94 percent brilliant, 6 percent near-brilliant, 100 percent Chiwetel Ejiofor. This is the type of performance that everyone at the Oscars will tell their friends they thought deserved to win.
05) Her, d. Spike Jonze
They just don't make films like this anymore. Well, except for Her. Stuffed with ideas, talky, beautiful beyond belief – this is a modern love story. I will now start the time until the next Spike Jonze flick.
04) Wolf Of Wall Street, d. Martin Scorcese
No movie stunned me more this year. Excessive and brutal, somehow hilarious and sadly, intentionally-hollow all at the same time. Leonardo DiCaprio gives the best performance of his career and somehow a 72-year old Scorsese just keeps getting better.
03) American Hustle, d. David O. Russell
David O. Russell takes on the late 70s. Magic happens.
02) Gravity, d. Alfonso Cuaron
Dear Mr. Cuaron, thank you for remembering that films can be powerful and entertaining.
01) Inside Llewyn Davis, d. The Coen Brothers
Sigh, a perfect movie about failing. I wish the Coen Brothers made one movie a week.