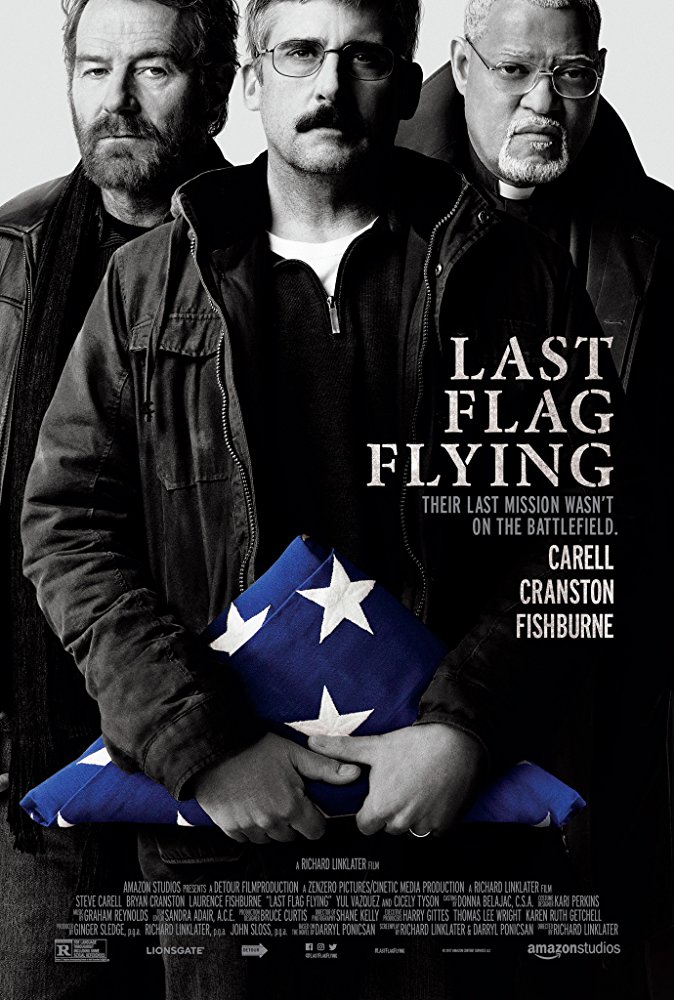 Pre-Screening Stance:
I'm only going to see Last Flag Flying because it's directed by Richard Linklater.  I mean, I like the cast, but old guy road trip movies are rarely ever good.  Also, could they have made a more boring trailer for this movie?  I doubt it.
Post-Screening Ramble:
Last Flag Flying is a lot more than just a road trip movie.  It begins with Larry "Doc" Shepherd (a melancholic Steve Carell) recruiting two of his old service buddies from Vietnam – Sal Nealon (a coarse, motor-mouthed Bryan Cranston) and Reverend Richard Mueller (a very settled Laurence Fishbourne) – to help him bury his son, a Marine killed in the Iraq War.  Obviously, the end goal here for this trio of friends features a rather difficult task, and there are plenty of moments in the movie that will tug at your heart strings, but in general, Last Flag Flying is a very sharp-witted comedy that covers life (especially the growing old part) in a grounded, real way.  I related to every character in every single one of their situations in this film, and I'm not near as old as them, nor am I a veteran.  That's how well written and dialed in it is at every turn.  In the way that Richard Linklater's Boyhood vividly reminded me of my childhood, his Last Flag Flying is an instant reality check for me at 34.
If you have a free afternoon sometime soon, I recommend that you take a chunk of it and spend it with this film.  It's a good one.  In fact, it's just good enough to make me forgive Linklater for the giant disappointment that was his last movie, Everybody Wants Some.
One Last Thought:
Nice Bryan Cranston characters are … well, nice.  I think he's at his best though when he's playing someone like Sal, who has been bent out of shape by the world.