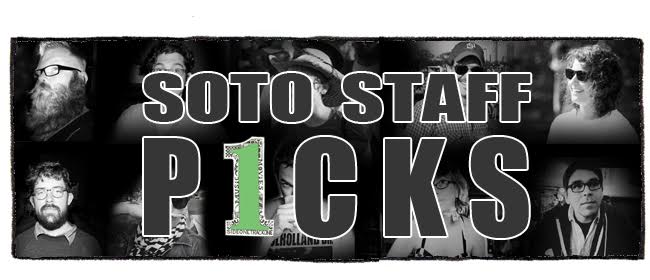 Hey friends, as you surely know, I'm not the only one around these parts. Check out what the SOTO staff dug in 2016!  Enjoy.

2016 saw hitmakers make political statements, long rumored records finally drop, and legendary artists leave us with one last music statement before dying. From the grief-laden laments of Touche Amore's epic Stage Four to the gospel-hop of Chance the Rapper's Coloring Book, these are the five records that stuck with me the most in 2016.
1. Chance the Rapper – Coloring Book
2. Frank Ocean – Blond
3. Bon Iver – 22, A Million
4. Various Artists – Day of The Dead
5. Touche Amore – Stage Four

Metal. Get some.
1. Astronoid – Air
2. Nails – You Will Never Be One Of Us
3. Protest The Hero – Pacific Myth
4. Devin Townsend Project – Transcendence
5. Fleshgod Apocalypse – King

Hip hop is changing A LOT. 2016 saw those artists that play with other genres – EDM most notably, Afro-Caribbean rhythms, R&B, and gospel – come out with some great albums. Here are my favorites:
1. Danny Brown – Atrocity Exhibition
2. A Tribe Called Quest – We Got It From Here … Thank You 4 Your Service
3. Chance The Rapper – Coloring Book
4. Young Thug – No, My Name Is Jeffery
5. Noname – Telefone

If you don't agree Teens of Denial is the greatest album of the year … I will fight you. That's no lie.
1. Car Seat Headrest – Teens of Denial
2. Our Fertile Forever – WOMPS
3. David Bowie – Blackstar
4. Thao & The Get Down Stay Down – A Man Alive
5. Angry Angles – Angry Angles

I could name 100 great records out this year. It really has been maybe the best year for records this century. These 5 have stayed highest in rotation throughout 2016.
1. 75 Dollar Bill – Wood/Metal/Plastic/Pattern/Rhythm/Rock
2. Steve Gunn – Eyes On The Lines
3. William Tyler-  Modern Country
4. Terry Allen – Lubbock (On Everything)
5. Shabaka And The Ancestors – Wisdom Of Elder

Ah, Jesus H. Christ, is it that time of year again?
Is it time for me to start trying to think back on everything I've listened to (and everything I haven't) and try and discern some minute list of favorites so John Laird doesn't fly to San Francisco and hit me with a stick?
So, it seems.
You know how when you're young (i.e. under 30) and you listen to everything that comes out and when you look at your befuddled, grey-haired 30+ friends who've settled into arguing about which Rolling Stones' album is the best, you think, "I'm never going to be like that, I'm going to listen to whatever's on the radio because regardless of changing music trends, I'm always going to be hip enough to connect"? You know, that feeling? I'm going to pass along some bad news to you, idealistic, youthful music lover: you will become that salt-and-pepper elder, barely clinging to the music everybody once thought was cool.
Or, at least, I have become that person. I don't know, blame it on the unending options presented by streaming services, blame it on the fact that for long portions of the year I actually appreciated silence, or just blame it on me running into a brick wall of not giving a shit, but, I didn't spend a whole lot time this year digging through the new stuff. I listened to new music, but almost all of it was old to everyone else. I dug deep, but I went down instead of up. And though, yes, I'm sitting here struggling both to think of 5 albums I listened to on repeat and struggling while looking at my list of 5 Best Albums of the Year and not thinking, "Jesus, how boring have I become?"
But hey, the music I liked this year, I loved, and the process of going backwards into what came before was as enjoyable a listening experience as any I've ever had. So, well, I guess I'll put on my sweater vest and lean back with piping hot cup of chamomile and maybe put on a Dylan album. The Nobel Prize Committee liked him. I'm sure he'll be right up my dilapidated alley.
Oh, also, here's 4 albums and a mixtape series that rattled my cobwebs this year.
Happy Holidays folks. Fuck Donald Trump.
The Best Albums of 2016:
5. The Life of Pablo / Kanye West
As much as I hate giving anything to Ye after he spent 15-minutes canoodling with President-Elect Donald Trump, this album is amazing. As a singular piece of music, it's well, it's all the genre-pushing, somehow-still-Billboard-friendly rap music he's been doing all along. Kanye West defines what we listen to as hip-hop fans, and if he's not defining it, he's popularizing the genres he's ripping off. Ultralight Beam featuring Chance the Rapper is the catchiest song of the year and features a verse from Chance better than anything off Coloring Book. Fade is like the soundtrack to the sexiest cross-fit class you've ever been in. Famous is a bigger, better song than the celebrity fist-fight it encouraged. This is the evolution of Kanye West, and as different as it sounds, the threads of everything that have come before it still lingers in its bloodstream. Beyond this though, Kanye's seemingly bizarre release schedule of The Life of Pablo redefined the way a rap album, or any album can be released. He turned a chart-topping release into his own personal sonic playground, tweaking songs with each consecutive release on a different platform, turning it into a living, breathing piece of art unlike any album we've ever seen. Kanye, you're a mess, but shit-on-a-stick, you're still the most innovative thing rap's got.
4. 22, A Milion / Bon Iver
If you, like me, fell hard for Bon Iver with the release of For Emma, Forever Ago and then found that his subsequent releases got further and further away from what you loved about the purity and sheer emotional beauty of that album, well, 22, A Million might be the salve for your wounded heart. Bon Iver, or Justin Vernon, isn't an artist who's going to linger around what made him famous, seeking to strike gold a second time. He's going to push forward, out of need or out of curiosity, and continuing composing tracks that veer far and wide from what came before. That said, 22, A Million is an album that contains the through line of his first album – the sweeping yet intimate sonic landscape, the essential sadness haunting its core – but meshes it with a turn towards progress. What emerges is Bon Iver's most complicated album to date, a churning collision of sounds and samples and Vernon's crystalline voice that manages to be both jarring and beautiful in the same song. It isn't an album to judge on a first listen, or even a second. It's an album to play on repeat in the background, each song finding its way out of the noise and deep into the folds of your brain. It's as exciting as For Emma was beautiful.
3. Singing Saw / Kevin Morby
Kevin Morby's music is deceptively simple. This is a musician playing in a traditional sandbox, pulling from classic country and the folksier side of rock 'n' roll. Yet, his songs, his voice, the gentle play of his acoustic guitar pull deep at the listener's emotional core. Singing Saw is a propulsively somber album, a collection of low-key songs that feels best suited to the cracked plains of the high desert. It is also an immensely catchy album, with Morby pulling on horns and choral arrangements (think Cohen's Diamonds In The Mine but less gravelly) to ascend the musical worlds who's shoulders he stands on. All of Morby's stuff is great, but this is downright fantastic.
2. The Sun's Tirade / Isaiah Rashad
It takes a while for things to click sometimes for a musician, regardless of talent. Singers have to find their voices, instrumentalists have to improve and gel and understand their role as musicians. Isaiah Rashad is one of these performers, a rapper who's albums have always hinted at greatness, but never hit that elusive nail on the head. The Sun's Tirade is his announcement that he has, finally, arrived. There's a hint of Outkast in the smoothed out beats on this album, a touch of Andre 3000′s snarling pitch in Rashad's delivery. But this is Rashad's album, a collection of songs that straddles the line of street and art, an album that rambles and dead-ends, but always finds its way back to the laid-back flow of Rashad, and the jazz-flecked production found throughout. Step up to the podium, Isaiah, let people see how good you are.
1. Reverberation Radio
Sometime at the end of 2015, a friend introduced me to a mixtape series (purportedly compiled by members of The Allah-Lahs) called Reverberation Radio. I'm always looking out for ways to be introduced to older music outside of my own biases – twangy country – and I was immediately sucked in. The first mixtape featured staples of the art – Skip Spence, Link Wray – and artists I'd never knew even existed – Heron – and mind-bending tracks by artists I'd entirely forgotten – Norman Greenbaum! I spend the next year trying and failing to listen to every mixtape these crate-digging fools had put together. Stumbling in my quest, as I became obsessed with certain tracks, certain playlists, certain sounds, new pathways of musical enjoyment being discovered in my head. These aren't mixtapes, they're works of art, treasure maps leading you to previously undiscovered treasures. I've spent more time listening to Reverberation Radio then I have anything else this year, and every moment has been worth it. Spend some time sifting through the mixtapes (260 and rising) on your holiday break, it's a rabbit-hole you'll be ecstatic to have fallen into.