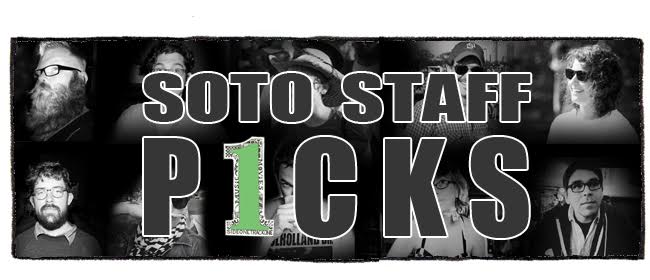 Here's your chance to take a look at what the SOTO staff dug in 2017!  Enjoy.
CHUCK LOESCH (Happy Metal Fun Time)

Mors Principium Est – Embers Of A Dying World (AFM)
Igorr – Savage Sinusoid (Metal Blade)
Junius – Eternal Rituals For The Accretion Of Light (Prosthetic)
Kreator – Gods Of Violence (Nuclear Blast USA)
King Woman – Created In The Image Of Suffering (Relapse)
The Black Dahlia Murder – Nightbringers (Metal Blade)
Power Trip – Nightmare Logic (Southern Lord)
Royal Thunder – Wick (Spinefarm)
Paradise Lost – Medusa (Nuclear Blast)
Toothgrinder – Phantom Amour (Spinefarm)
Submitted without explanations, simply know that this is indeed the best metal or 2017 and probably one of the most eclectic group of sounds I have heard in years of listening to the genre. From female fronted hard rock, jazz infused black metal, symphonic black metal, and straight up death metal, this year has been weak over all but with some shining hope for the future and what is to come from the people creating great and innovative metal tunes.
RANDY REYNOLDS (Raised Eyebrows)

Hayden Pedigo – Greetings from Amarillo
Gunn ~ Truscinski Duo – Bay Head
Simon Joyner – Step Into the Earthquake
Brokeback – Illinois River Valley Blues
Happyness – Write In
Justin Walter – Unseen Forces
James Elkington – Wintres Woma
The Stevens – Good
Bob Dylan – Trouble No More: The Bootleg Series, Vol. 13 / 1979-1981
Neil Young + Promise of the Real – The Visitor
I listened to these records the most this year. I'll probably keep listening to them way past this year. Great music is made every day. And for those of you skeptical about Bob Dylan's gospel years, take the leap. You can listen here.
LEAH MANNERS (Hip Hop Hooray)

Open Mike Eagle – Brick Body Kids Still Daydream
Run the Jewels – Run the Jewels 3
Kendrick Lamar – DAMN.
Tyler the Creator – Flower Boy
Jonwayne – Rap Album Two
Shabazz Palaces – Quazarz vs. The Jealous Machines
Your Old Droog – Packs
Rapsody – Laila's Wisdom
Oddisee – The Iceberg
Milo — Who Told You To Think??!!?!?!?!
SZA — Ctrl
These are in no particular order!
NOAH SANDERS
Every year I sit down to make my "Best Music" list I realize that I'm an old man who no longer cares too much about being hip to whatever new music is dropping into the collective mainframe. I don't know if my mind has just atrophied to a point where I can only enjoy what's come before or if there's just too much for me to listen to and the sheer overwhelming nature of it all makes me want to climb into my record collection and never come out. What I'm trying to get at here is, well, I haven't listened to that much new music this year, and what I have has been directly funneled to me by either John Laird (sweet angel that he is) or my pre-existing tastes. You will find no revelations or ground-breaking artists on this list, just the music that filtered its way down from the enormous cloud of musical output this year.
Best Music of 2017:
1. Anti-Socialite / Alvvays
There's a thread of despair woven through Alvvays poppy ditties, a lingering sense that not all is right. Alvvays second album could get away on the sheer catchiness of every song on the album, but Molly Rankin and company add a gravity to the pop that caught me off guard. "In Undertow" is the best single of the year, with "Dreams Tonite" a close second, but any song on the album could at least show up in the running. These songs haunted me – awake or not – with the clean break of Rankin's voice burying itself deep in my subconscious.
2. Sleep Well Beast / The National
Every time The National releases an album, I listen to it with a hint of nervousness coiled in my stomach. Will this be the album that isn't a classic? Will this be the release where they break apart at the seams? Every album since Boxer has been a certified classic and Sleep Well Beast continues the trend. There's some progression in terms of sound for Akron's own – a light electronic buzz in the background, a Lou Reed like swagger to a few almost interstitial songs – but in the end, this is The National doing what they do best – dark, emotional anthems anchored by Matt Berninger's rattling growl.
3. Damn. / Kendrick Lamar
Kendrick Lamar's music demands your attention. It isn't background music, it isn't something to throw on in the car, it isn't party music – it is, to varying degrees, challenging music that forces you to sit, think and inevitably enjoy. If To Pimp A Butterfly swung too far into artistic concept, then Damn is Kendrick finding his balance, a full album of party tracks filtered through the mind of Kendrick Lamar. This album bumps as much as any that arrived this year, but with Kendrick manning the cruise ship, the beats will get you in the door, the dark political overtones will keep you in your seat.
4. "Growth Groove" / Nappy Nina ft. Bria Monet
I'd argue that rap in general is in the midst of a hey-day right now, but with the caveat that the new generation of female vocalists are one of the driving forces behind it. "Growth Groove" by former Oaklander Nappy Nina is indicative of just how good rap produced and performed by women was this year. It's rooted in the classics of rap – there's a distinct ATCQ vibe to the proceedings – but Nappy Nina's flat vocals and almost stream-of-conscious flow add a spoonful of originality to the mix and the slow burn of the track holds you in place.
5. "Caroline" / Amine
If I were passing out Rookie of the Year awards, Amine would get the coveted Golden Unicorn. He, like Kendrick before him, has managed to take the structure of commercial rap – catchy hooks, sing-songy vocals – absorbed it, and spit out an amped up version that rises above what came before. "Caroline" is the standout track on the album – a bouncy, morbid smirk of a song – but the whole thing is an announcement that a very real talent has arrived on the scene.
6. "Keys To The Castle" / Thee Oh Sees
"Memory of a Cut-Off Head" / OCS
One of the joys of listening to John Dwyer's musical evolution is how he continually surprises by working the various formations of Thee Oh Sees into new and engaging soundscapes. Orc and The Memory of a Cut off Head arrived in 2017 with the former seeming to be a nod to the simpler, garage rock of earlier days and the latter bringing back Brigid Dawson in an almost orchestral selection of tracks. Both, to be quite honest, are fantastic, prime examples of the spectrum of Dwyer's skill.