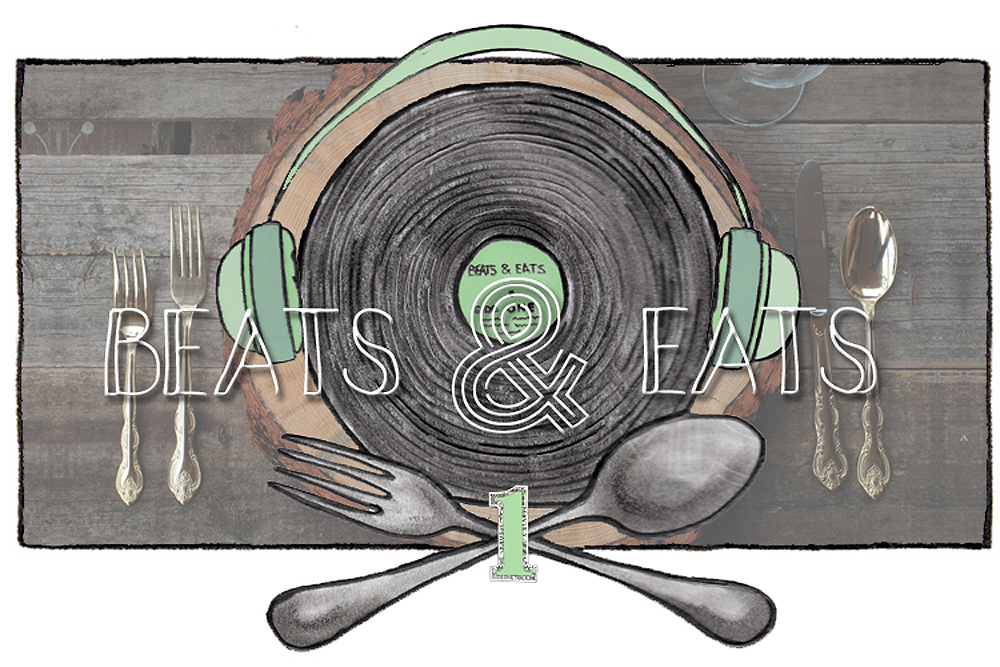 Beats & Eats is a mixtape and a meal. A collection of tunes (sometimes there's a theme, sometimes it's just whatever I'm into this month) and a recipe to cook (bake, mix, whatever) while you listen to the songs. Enjoy!
Depending on what part of the country you're living in, you're either relishing the last few days of Spring, when you still need a light jacket at night and the days don't necessarily demand shorts, or dreading five more months of the blistering, oppressive, full on heat wave of Summer. Either way, there's a zero percent chance you want to spend your time in a hot kitchen cooking something. So this month, we forgo the food recipe for a better sort of recipe: two delicious cocktails you'll want to sip on your favorite porch or patio.
Volume 4 of Beats and Eats opens with the infectious pop of Minneapolis upstarts Holidae. Burnin is equal parts CHVRCHS and T Swift – the soundtrack to your Summer that you haven't heard yet. And of course they're not the only Minneapolis band represented on this month's mix: Haley Bonar (I Can Change), Har Mar Superstar (Youth Without Love) Andrew Broder's Fog (Jim) all make solid contributions. Bonar has been busying herself with the more aggressive post-punk of Gramma's Boyfriend lately. I Can Change is an impressive first single of her forthcoming Impossible Dream album, due in August.
Slacker set darlings Car Seat Headrest live up to all their hype with Fill in the Back, the infectious, head bopping lead single off of their album Teens of Denial. Twin Peaks and Summer Cannibals follow.
I've been particularly impressed with the Bryce and Aaron Dessner-produced Day of the Dead compilation, The National brothers' Grateful Dead covers comp that features a who's-who of indie rock acts. Full of several hits, and a few misses, the comp is nonetheless impressive in it's breadth. Two tracks show up on this month's mix, The National (Peggy-O) and criminally underrated Hiss Golden Messenger (Brown Eyed Women).
Speaking of covers, SOAK's industrialized interpretation of Led Zeppelin's Immigrant Song is sure to piss off a few purists out there, so of course I couldn't resist including it. ANOHNI stuns on Drone Bomb Me. James Blake (I Need A Forest Fire) and Kaytranada (Got It Good) make strong claims for "Album of the Year" status.
Aesop Rock returns to form on Lotta Years, off The Impossible Kid, his first full length in four years. A Sinclair, A Giant Dog, and Blue Healer represent the great city of Austin.
Holy Ghost, Jessy Lanza, A$AP Ferg (featuring the one and only Missy Elliot), and hip-hop pioneer The Egyptian Lover (who's 1983 – 1988 production work sees long overdue reissue on the recently released 1983 – 1988) close things out on an uptempo note.
The month's mix has a little bit for everyone so crank it up next time you have friends over for porch hangs. Two cocktail recipes below. Enjoy responsibly.
Mezcal Margarita
This smokey-twist on a simple margarita is perfect for hot nights on the back porch.
- 2 oz VIDA San Luis Del Rio mezcal
- ¾ oz Cointreu or other orange liquor
- ½ oz fresh lime juice
- ½ oz simple syrup
Combine all four ingredients in a shaker with ice. Shake vigorously. Pour over fresh ice in a lowball glass with salted rim. VIDA San Luis Del Rio mezcal is a personal favorite but there are other great mezcal's on the market right now, due to the spirit's increasing popularity. Whatever you do DON'T go with a cheap mezcal. You'll appreciate the extra couple dollars spent.
Rum Old Fashioned
Another classic cocktail twisted to please the sweeter summer palate.
- 2 oz ANGOSTURA 1919 8yr aged rum
- ½ oz demarera syrup
- 2 dashes Angostura bitters
- 1 dash orange bitters
- 1 orange peel
Whatever you do, DON'T go with a white, unaged rum for this cocktail. There are a lot of good 8 – 12 year aged rums out there right now that won't break the bank, so treat yourself and thank me later.
Combine first four ingredients in a pint glass with ice. Stir. Stir, stir, stir. You want to get this drink nice and chilled before serving. Pour over 3 – 4 large ice cubs in a lowball glass. Garnish with orange peel expressed over the glass.