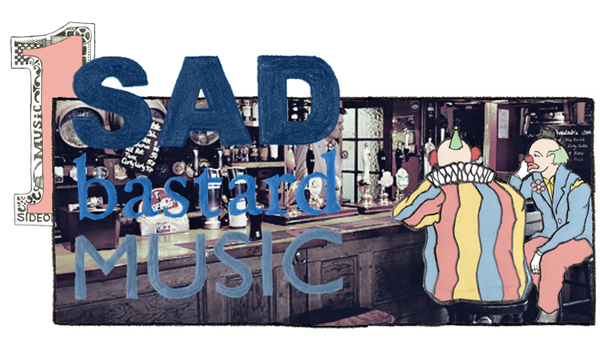 In honor the upcoming documentary Heaven Adores You, about the late and tragically great Elliott Smith, I've chosen to highlight some of the best tracks from his catalog for this month's sad music column. Is it complete and does it cover each of his albums? No. Does it feature anything from Heatmiser? No. But this is some of my favorite Elliott Smith-related material and it's the glue that will hold together this mixtape.
Sad songs are the best songs and Elliot Smith, man, he could write a mean sad song. Coping with drug addiction on top of basic heartbreak and general showbiz depression is a heavy order, but it worked for Smith and provided him with artistic fuel right up until his passing in 2003. I was heavily involved with college radio at the time of his death and was therefore surrounded by people to whom Smith meant the world to. His sensitive strummings, odd riffs, and layered self-harmonizing made him a treasured love. His music brought a sort of comfort to listeners; we listen to sad music to know we are not alone in our pain. You know what they say about misery and company. Because of the connection so many felt to Smith, the gruesome nature of his death – two self-inflicted stab wounds to the chest – he left in his wake an army of heartsick mourners. His death is as haunting as his music he left the world with. Some people have Kurt Cobain. I'll take Elliot Smith any day.
There are a TON of questions about his death and a TON of unique moments from his life that I have high hopes the new documentary will address when I see it at the Alamo Drafthouse Ritz on May 11 and May 14. Check out the trailer!
Tickets are available HERE.  ALSO, I'm giving away TWO pairs of tickets for the May 14 Alamo Austin screening and all you have to do to win is send your favorite Elliott Smith song in the subject line and your first/last name in the body HERE. Winners will be chosen randomly on Wednesday the 13. There are no wrong answers! Drink up baby.
—
:Portland Cello Project – Between the Bars:  Does the fact that Elliott was from dreary Portland make this ensemble of four strings and bowed axes even MORE somber? Yes. Yes it does. You can practically hear the long stretches of grey sky in the slow lull of the cellos' baritone.
:Elliott Smith – Needle in the Hay:  Recorded in 1995 and popularized by the attempted suicide of Ritchie Tenenbaum in 2001's The Royal Tenenbaums, this was an Elliott gateway for many who missed his Oscar nomination in 1998 for Miss Misery.
:Bad Astronaut – Needle in the Hay:  A song so nice – let's play it twice! This version is from Bad Astronaut, the side project of Joey Cape from Lagwagon. They released three EXCELLENT albums littered with inspired covers and this is one of the best. The distortion pedal is used with love here but the delicate confession remains. The sarcastic wordplay of "getting good marks" is emphasized. Give it a listen.
:Elliott Smith – Everything Means Nothing To Me:  Legend has it that Smith was so fed up with the state of his life and the music industry that he took a knife, carved the word NOW in his arm and sat down at the piano to write this song with the blood dripping everywhere. DUDE! That's up there with Phil Spector pointing guns at the Ramones as far as studio lore goes, folks!
:Elliott Smith- Blackbird (Beatles Cover):  Smith was known for covering this song live late in his career, and this bootleg recording is stupidly good. I recall, an entire lifetime ago, when he played it at a 2003 Austin show and it was especially moving. His presence on stage that night was very removed and shy and somber. A few months later my pal, Michael, from the radio station, would embark on a pilgrimage from Austin across the country to pay homage to Smith at a series of (roman) candlelight vigils.
:Ben Folds- Late:  This is such a good tribute song. The idea of gloomy and depressed Smith is countered here with the image of him playing pickup games of basketball with his pal, Ben Folds. The picture of a track-marked, skull-capped Smith faking the funk on a nasty dunk brings a smile to my face. It's the same alien feeling of seeing your middle school teacher at the store; picturing Smith sweaty and jovial on the court is so removed from his usual portraiture. Learning that Smith meant as much as he did to a respected musician like Ben Folds, makes his legacy even more significant. "Elliott, man, you played a fine guitar/And some dirty basketball/ The songs you wrote/ Got me through a lot/ Just wanna tell you that."
—
Come listen to a ton of Elliot Smith related tunes and MORE at the next NO DANCING: Sad Bastard Music, DJ GrossYall's monthly night of nothing but heartbreaking songs of tragedy at The Volstead. Join in at the Volstead May 12 for a special Elliott Smith heavy evening in honor of this new documentary.
Featuring everything from Elliott Smith to Hank Williams, Sam Cooke to Cat Power, this free night of songs of uber-misery is a safe space to get lonely. NO DANCING is the only place in town where you're able to hear the sounds of people's relationships falling apart through loud speakers with a craft beverage in your hand and all the Kleenex you could possibly need.
Like NO DANCING on Facebook to be up to date with happenings.
XO. Goodbye.