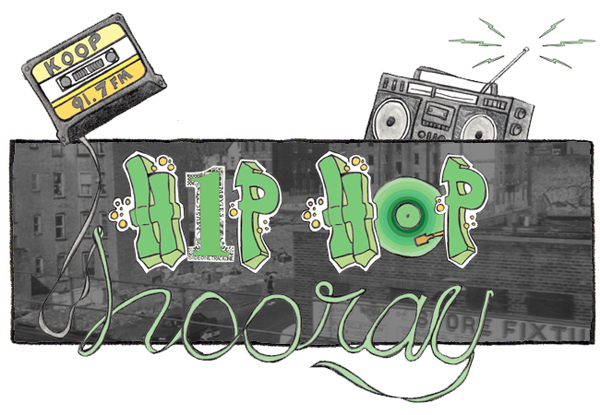 The Venn Diagram where hip-hop and feminism overlap can sometimes be a tough and laughable one to draw, but I assure you it exists; I'm walking, talking, droppin'-it-like-it's-hot proof of a feminist into and supportive of hip-hop.  Mainstream rap programming can oft paint a picture of rap as misogynistic, violent, and nearly sociopathic in its tendency to treat women as objects instead of people, but the movement overall is much more than mainstream rap, obviously.  And even as women are beginning to crest the popular waves more and more (as much as you may despise the tenets upheld by Nicki, Iggy, or Azealia, them being a part of the conversation is still a big step forward), there continue to be amazing MCs beginning the trudge from obscurity with skill and panache that just happen to also be women.
A lot of great stuff has been written about women and feminism in hip-hop, and while I make increased exposure and promotion for women in this genre a goal of mine, I can't pretend to be a scholar.  If you'd like to investigate this issue further, I highly recommend you head down to Monkeywrench Books and pick up  The Hip Hop Wars: What We Talk About When We Talk About Hip Hop – And Why It Matters by Tricia Rose and When Chickenheads Come Home to Roost: A Hip-Hop Feminest Breaks It Down by Joan Morgan.
Since March is Women's History Month, I've assembled a Friday mix of nothing but my favorite MCs who also happen to be ladies.  And don't miss the KOOP 20th Birthday Bash on April 2 at the North Door featuring Brownout and Riders Against the Storm (also home to one of the fiercest women in hip-hop in Austin, Qi Dada).
SONG OF THE MONTH:
:DJ Vadim And Sarah Jones – Your Revolution:  A radio station that played the vocal from this track was fined in 2001 by the FCC for her Your Revolution dis poem and they later reversed their ruling of the piece as indecent because they acknowledged  "the most graphic phrase ('six foot blow job machine') was not repeated." Moreover: "We take cognizance of the fact presented in this record that Ms. Jones has been asked to perform the song at high school assemblies." FUCK THE FCC.
MARCH MIX:
:Salt N Pepa – None of Your Business:
:Monie Love – It's A Shame (My Sister):
:JusMoni x WD4D – Queen Feel:
:Queen Latifah  - That's The Way We Flow:
:Adrienne Mac-Davis – Hey Yo feat. Felecia Cruz:
:Rapsody – Lonely Thoughts feat. Chance:
:SigNif – Soul Clap:
:THEESatisfaction – QueenS:
:Lizzo – Batches And Cookies:
:Nneka – God Knows Why:
:Magna Carda – Shoes $ Money:
:Ana Tijoux – Somos Sur:
:Bahamadia – Queen Talk:
:Jean Grae – Don't Rush Me:
:Anya – Not Chief Nor Beggar:
:Dessa – The Bullpen:
:Hologram Kizzie – The Responsibility:
:KB the BooBonic – Farrah Flo$$it: