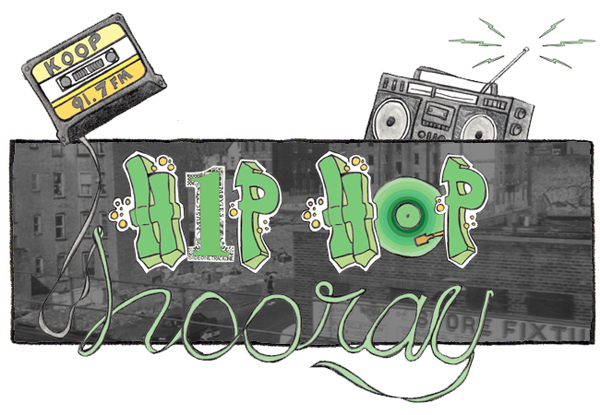 Hey guys, this is important: today is the first day of the KOOP Radio Membership Drive. If you like what I do for this blog and for Hip Hop Hooray, and what community radio in general does and can do for this town, then I hope you'll take just a few minutes out of your day and a few of your hard-earned dollars and support a place where people can have their voices heard without having to be rich white dudes (though I guess some even are maybe?).
Alright, thanks for reading that first part.  This month, I've pulled together some artists you can find playing at the gigantic, city-stopping, party mushroom bomb we call South By Southwest.  Hope you enjoy this playlist and catch some artists below.  A lot of them are at "official" showcases, but some are just currently at the shows listed below as far as I know. Any that lack dates and locations are official SXSW artists with performances to be announced. Happy partying, y'all.
PS – I'm hosting a show with Chi Chi from ScratchedVinyl.com at Dive Bar on Thursday, March 19.  Come out!
SONG OF THE MONTH:
:Hologram Kizzie (aka Psalm One) – The Responsibility:  The First Lady of Rhymesayers is back this year at Dive Bar for our showcase and honestly, if you haven't seen this MC perform, you are missing out.  She is one of my favorite Chicago emcees and always puts on an amazing show.
MIX:
:Action Bronson – Actin Crazy:
:Run the Jewels – Lie, Cheat, Steal: (Friday, March 20 at Cedar Street Courtyard)
:P.O.S. – Fuck Your Stuff: (Thursday, March 19 at Karma Lounge)
:Earl Sweatshirt – Hive feat. Casey Veggies and Vince Staples:
:Scuare – These Words: (Thursday, March 19 at Dive)
:Homeboy Sandman – Yeah, But I Can Rhyme Though:
:B Dolan – Which Side Are You On: (Thursday, March 19 at Soho Lounge)
:Statik Selektah – The Thrill is Gone feat. Styles P and Talib Kweli: (Wednesday, March 18 at Friends)
:Lazerbeak – Had Enough: (Thursday, March 19 at Karma Lounge)
:Phranchyze – Exodus:
:Big K.R.I.T. – Mt. Olympus:
:Amerigo Gazaway – Itsoweezee: (Friday, March 20 at Holy Mountain)
:Riders Against the Storm – Booty Sweat: (Thursday, March 19 at Soho Lounge)