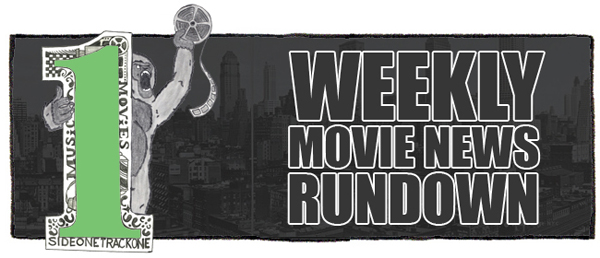 Time for your weekly movie news update!  Below you'll find a slew of sentences meant to provide a brief glimpse of what's been going on over the past week in movieland.  If something leaves you desperate for more info, then my advice is to do a little extra research on one or all of the following fantastic sites:  Latino Review, Dark Horizons, Ain't It Cool News, CHUD and/or JoBlo.  Read on!
Jesse Eisenberg is reportedly in talks to play Lex Luthor in David Ayer's upcoming Suicide Squad movie.
Producer Ed Pressman recently noted that production for The Crow remake will begin next year.  Luke Evans is said to still be the frontrunner to star in the film.
Christian Bale is officially set to star in Danny Boyle's Steve Jobs biopic.
James Wan has signed on to direct The Conjuring 2.
Frank Grillo may star in the Skyline sequel, Beyond Skyline.
Ethan Hawke is set to star in Born To Be Blue, which is said to be about jazz singer/songwriter Chet Baker.
Paul Greengrass will direct The Tunnels.  The movie is said to be based on the true story of a covert mission where West Germans tried to get friends and family out of East Berlin.
The shortlist for Wonder Woman directors is reportedly as follows: Kathryn Bigelow (Zero Dark Thirty), Catherine Hardwicke (Twilight), Mimi Leder (Deep Impact), Karyn Kusama (Aeon Flux), Julie Taymor (Across The Universe), Michelle MacLaren (Game Of Thrones) and Tricia Brook (The Walking Dead).
Sebastian Stan (Captain America: The Winter Soldier), Chiwetel Ejiofor and Mackenzie Davis (Halt And Catch Fire) have joined the cast of Ridley Scott's The Martian.
Charlie Kaufman has signed on to write an adaptation of Arthur Herzog's IQ 83.  Steve Carell is expected to star in the film.
The film and TV rights for John Carter Of Mars have reverted back to Edgar Rice Burroughs Inc.  The company has noted that they are "seeking a new studio to continue this seminal Sci-Fi adventure."
Patrick Stewart has signed on for a role Green Room.  Directed by Jeremy Saulnier (Blue Ruin), the film is said to follow a punk band trying to survive after witnessing a white supremacist gang commit a horrific act of violence.
Eddie Murphy is reportedly in talks to star in Cook.  It's said to follow a chef that gets hired by a dying man who wants him to cook for his girlfriend and daughter after he dies.
This Week's Notable Trailers