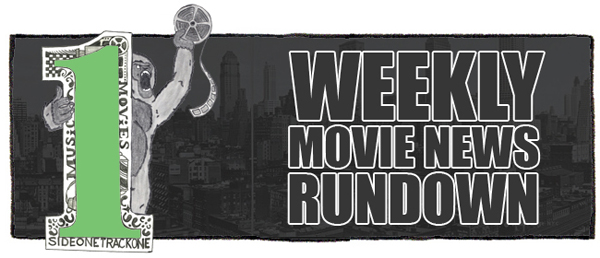 Time for your weekly movie news update!  Below you'll find a slew of sentences meant to provide a brief glimpse of what's been going on over the past week in movieland.  If something leaves you desperate for more info, then my advice is to do a little extra research on one or all of the following fantastic sites:  Latino Review, Dark Horizons, Ain't It Cool News, CHUD and/or JoBlo.  Read on!
Warner Bros. is set to make a Lego Movie-spinoff that will feature Batman.  Will Arnett is set to return to voice the character.
Léa Seydoux (Inglorious Basterds) has reportedly landed a role in the next Bond film.
Jennifer Jason Leigh has landed a lead role in Quentin Tarantino's The Hateful Eight.
Paul Feig is officially set to reboot Ghostbusters will an all-female cast.  Katie Dippold (The Heat) will write the script.
Gore Verbinski and Steve Carell are said to be working on a paranoid thriller.
Stephen King recently noted that Josh Boone's adaptation of The Stand could span more than one movie.
Sony is reportedly trying to launch a cinematic universe that's centered around Robin Hood.  Hood would be the first movie.  Cory Goodman (Priest) wrote the script, which is said to be Mission Impossible meets Fast & Furious.
James DeMonaco is set to return to write and direct the next Purge film.
Rumor has it that Brainiac will be the villain in the Justice League movie.
The rumored characters for the Suicide Squad movie are Blockbuster, Multiplex, Jaculi, Mindboggler, Harkness, Vixen, and Deadshot.
The Jim Henson Company is reportedly developing a Dark Crystal sequel and big screen adaptations for Which Witch, Frog And Toad and Fraggle Rock.
Luke Wilson may portray Roger Goodell in a movie about the NFL and concussions.  Peter Landesman (Parkland) is directing and Ridley Scott is producing.
Sony has bumped Inferno (the follow-up to The Da Vinci Code and Angels & Demons) from December 18, 2015 to October 14, 2016.
Jai Courtney recently said he expects Terminator Genisys to be PG-13.  He also noted that he thinks the next two films in the new trilogy will be shot back to back.
Director Wes Ball has let it be known that he does not intend to stretch The Death Cure (the third book in the Maze Runner series) into two films.
Both Marvel and Sony have confirmed that there have been some discussions about Spider-Man appearing in the Marvel Cinematic Universe.  Obviously though, there are a lot of hurdles to clear and such a crossover isn't expected to happen anytime soon.
This Week's Notable Trailers