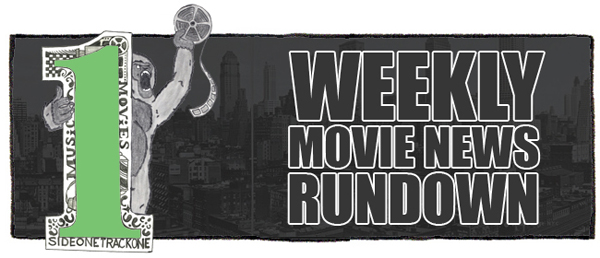 Time for your weekly movie news update!  Below you'll find a slew of sentences meant to provide a brief glimpse of what's been going on over the past week in movieland.  If something leaves you desperate for more info, then my advice is to do a little extra research on one or all of the following fantastic sites:  Latino Review, Dark Horizons, Ain't It Cool News, CHUD and/or JoBlo.  Read on!
Dwayne Johnson is set to star in a Baywatch movie.  It will be directed by Sean Anders and John Morris (Horrible Bosses 2).
Leonardo DiCaprio has dropped out of the Danny Boyle-directed, Aaron Sorkin-scripted Steve Jobs biopic.
Joaquin Phoenix will not star in Doctor Strange.  He reportedly did not want to sign a multi-picture deal.  Ethan Hawke is now the rumored frontrunner for the role.
Daniel Radcliffe has signed on for a role in Now You See Me 2.
Catherine Zeta-Jones is set to star in The Godmother.  The film is said to revolve around the true story of Griselda Blanco, who was once a Colombian drug lord.
Threshold Entertainment and the Tetris Company recently came out and said they're working on a film that's based on the classic game.
Robert Downey Jr. has let it be known that he'll return for Iron Man 4 if Mel Gibson is allowed to direct it.
Jeff Daniels is reportedly in talks for a role in Ridley Scott's The Martian.
The Crouching Tiger, Hidden Dragon sequel will be released through Netflix.  Also, the streaming service has signed a four-picture deal with Adam Sandler.
Warner Bros. is reportedly set to reboot I Am Legend.  Will Smith is not expected to return.
Eric Bana has landed a role in The Finest Hours.  The film is said to be based on the true story of a daring rescue off the New England coast in 1952.
Ben Affleck may star in Gavin O'Connor's The Accountant, which is said to be about an accountant who moonlights as an assassin.
Rhianna may make a cameo in the next Bond film.
Dave Callaham (Godzilla) has been hired to write Zombieland 2.  Ruben Fleischer is expected to return to direct the sequel.
Kevin Smith has reportedly landed financing for Clerks III.
This Week's Notable Trailers