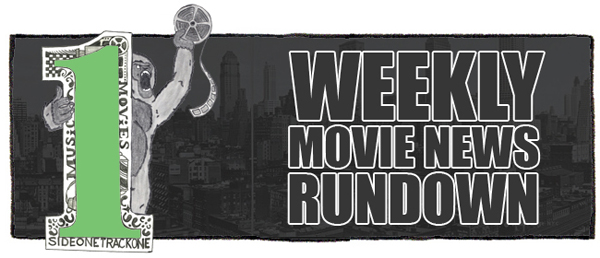 Time for your weekly movie news update!  Below you'll find a slew of sentences meant to provide a brief glimpse of what's been going on over the past week in movieland.  If something leaves you desperate for more info, then my advice is to do a little extra research on one or all of the following fantastic sites:  Latino Review, Dark Horizons, Ain't It Cool News, CHUD and/or JoBlo.  Read on!
Andres Muschietti (Mama) is set to direct an adaptation of the game Shadow Of The Colossus.
Juliet Blake (The Hundred-Foot Journey) is set to produce an adaptation of Neil Gaiman's graphic novel Hansel & Gretel.
George Clooney will reportedly direct a movie based on Rupert Murdoch and the shutdown of News Of The World.  It will be based on the Nick Davies book Hack Attack: The Inside Story Of How The Truth Caught Up With Rupert Murdoch.
Shia LaBeouf, Kate Mara and Gary Oldman will star in a psychological thriller titled Man Down.  Dito Montiel (A Guide To Recognizing Your Saints) will direct.
Dwayne Johnson let it be known that he will be portraying Black Adam in Shazam.
Dax Shepard and Michael Pena are set to star in the big screen version of the 70s/80s TV show Chips.
Sean Harris (Prometheus) is reportedly in talks to join Mission Impossible 5 as the villain.
Julia Roberts is reportedly set to star in the remake of The Secret In Their Eyes.  Chiwetel Ejiofor and Gwyneth Paltrow will also appear in the film.  Billy Ray (Shattered Glass) will direct.
Jessica Chastain and Kristen Wiig are said to be in early talks to join the cast of Ridley Scott's The Martian.  Matt Damon is set to star.
Chan-wook Park (Oldboy) is set to direct an adaptation of the Sarah Waters' book Fingersmith.
Rumor has it that Joaquin Phoenix is hesitant about starring in Doctor Strange.
James McTeigue will direct Alien Sleeper Cell.  It's supposed to be the Bourne Identity meets an alien invasion.
Jesse Eisenberg and Shia LaBeouf will star in Todd Phillips' Arms & The Dudes.  The film is said to center around the true story of two 20-somethings who go involved in a $300 million arms deal.
Margot Robbie (The Wolf Of Wall Street) is reportedly in talks to star in Rupert Sanders' live action take on Ghost In The Shell.  She may also star opposite Charlie Hunnam (Pacific Rim) in the adaptation of the Charles Martin book A Mountain Between Us.
Sienna Miller, Zoe Saldana and Elle Fanning will star in Ben Affleck's upcoming  adaptation of the Dennis Lehane novel Live By Night.
This Week's Notable Trailers