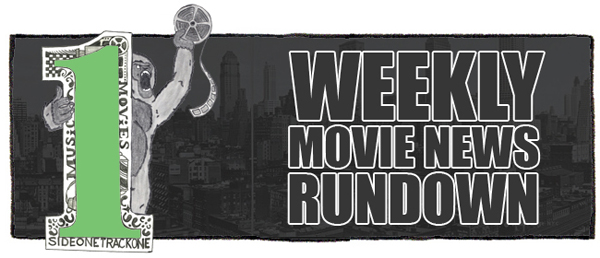 Time for your weekly movie news update!  Below you'll find a slew of sentences meant to provide a brief glimpse of what's been going on over the past week in movieland.  If something leaves you desperate for more info, then my advice is to do a little extra research on one or all of the following fantastic sites:  Latino Review, Dark Horizons, Ain't It Cool News, CHUD and/or JoBlo.  Read on!
Scarlett Johnasson and Jonah Hill have joined the cast of the Coen Brothers' Hail Caesar.  Channing Tatum, George Clooney, Josh Brolin, Tilda Swinton and Ralph Fiennes are already set to appear in the comedy.
Alec Baldwin and Rebecca Ferguson (The White Queen) are in talks to star in Mission Impossible 5.
Disney is set to turn Dumbo into a live action film.  Ehren Kruger (Transformers) will pen the script.
Ridley Scott is said to be looking at making a film based on the story of David and Goliath.
Die In A Gunfight writers Gabriel Ferrari and Andrew Barrer have been hired to revise the Ant-Man script.  Adam McKay recently did some work on it.
Peter Berg may direct Mark Wahlberg in an adaptation of The Six Million Dollar Man.
Guillermo Del Toro recently noted that he's pretty certain that Hellboy 3 will never happen.  He also said that he plans to shoot a small black and white film before he does Pacific Rim 2.
Penelope Cruz has landed a role in Sacha Baron Cohen's spy comedy Grimsby.
Kevin Smith has said that the Weinsteins have passed on financing Clerks III.
There's a rumor floating around that Gus Van Sant may replace Shane Black as the director of the Death Note adaptation.
Dwayne Johnson may star in the adaptation of Robert Ludlum's The Janson Directive.
Rose Leslie (Game of Thrones) will star opposite Vin Diesel in The Last Witch Hunter.
Rachel Weisz may join Michael Fassbender in the adaptation of M.L. Stedman's The Light Between Oceans.
Robert Redford will portray Dan Rather in Truth.  Cate Blanchett is also attached to the film, which details the fallout after Rather incorrectly reported that George W. Bush had received special treatment when he was in the Air National Guard.
This Week's Notable Trailers