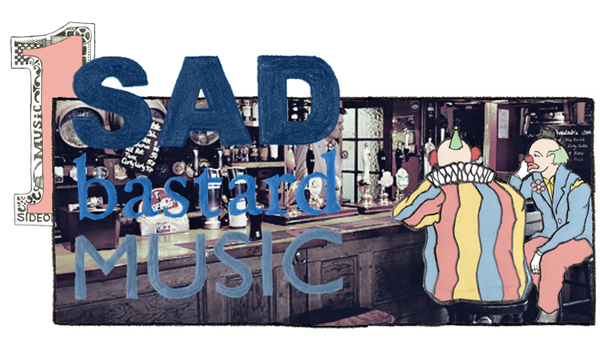 Howdy. Thanks for looking at these words on your computer screen. Pour yourself some whisky and crack open a fresh box of Kleenex and let's get you set up with the latest installment of your monthly soundtrack for melancholy. Blah.  If you like what you hear here, be sure to "like" dancing on the facebooks HERE.
APRIL BLAH. MIX.

:Weezer – Tired of Sex:  That distortion, dude. That fuzzy bass, dude. That picture of a post Blue Album Rivers Cuomo swinging yet empty lifestyle. Dude. He's stretched thin, apologetic, guilty and has a full dance card of ladies. But maybe, just maybe there's more to life than that. This was the first song on Weezer's final album, Pinkerton.
:The Mountain Goats – The Mess Inside:  Is it possible to pick a favorite song from the Mountain Goats' seminal 2002 album All Hail West Texas? That's a loaded question. For a variety of deeply personal reasons I can make an argument for this being not only my favorite track on the album but also one of my top Mountain Goats songs period. An emotional photo album, an emotional map of the United States, and a trademark simple chord progression can make hearts pop. It all lands home to me.  The protagonist's memories of an untidy and tragically doomed relationship cut deep here. May we all find the creeping sense of dread with temporal things when we're ready.
:The Shangri-Las – Remember (Walkin In The Sand):  The pleading of "Oh, no, oh, no. Oh, no, no, no, no, no." and the seagull noises are about as perfect of a sad mid-60s girl group combination that can possibly exist. The hand claps, the finger snaps and the snapshot of being a teenage girl who had access to the beaches of New York resonated with America and made the song HUGE for the gals, but not as huge as their anthem for the dead motorcycle-riding greaser boyfriend track Leader of the Pack. Find a Best Of The Shangri-Las CD in a used bin somewhere and devour it. Or just play it on the jukebox at The Shangri-La here in Austin.
:The Fleetwoods – Mr. Blue:  This was a number one Billboard hit in 1959 and it's still a blissfully sad and tender song. . Yes, America loves a good song about a nice young man who just wants a call from his dream gal. She's out painting the town red and he's at home painting the town blue. The whimpering horn is nice and sad but this song is really extenuated by the backup harmonies. (wah-a-wah-ooh)
:Sam Cooke – That's It, I Quit, I'm Moving On:  Why would anyone be two hours late for a date with Sam Cooke? For shame. Sam's got some decent relationship empowerment here because he's not going to stand for for his baby doing wrong, but it's still a bummer that his main squeeze is running around on him. That's not fair. Poor Sam Cooke.
:Pairote – Tee Makhuea Pok (Your Cheatin Heart): You know the essential 1952 Hank Williams country standard Your Cheating Heart, right? Well, Here's an amazingly groovy 60s cover version of it from Thailand. Boom.
:The Magnetic Fields – Very Funny:  This song gets in, paints a portrait of a cuckold, and gets out in under a minute half making it a true achievement amongst the Magnetic Fields famed 69 Love Songs. I've said it before and I'll say it again Stephin Raymond Merritt is a living legend among men.
SONG OF THE MONTH:
Angel Olsen's latest Jagjaguwar-released record Burn Your Fire For No Witness is full of neo-Roy Orbison somber mega-jams. One of the more upbeat tracks, Forgiven/Forgtotten, got a nice lil' music video made for it seen here. The song has Olsen's character coming to terms with the time she allegedly got wasted with an ex and the video achieves the imagery with kodacrome colors and hand scratched experimental film school aesthetics. As much as she's working hard to move on from the relationship, there is still an element of unrequitedness where she continues to seek validation from the ex all combining to result in a poppy, perfect sad anthem for 2014. Go Angel Olsen, go!