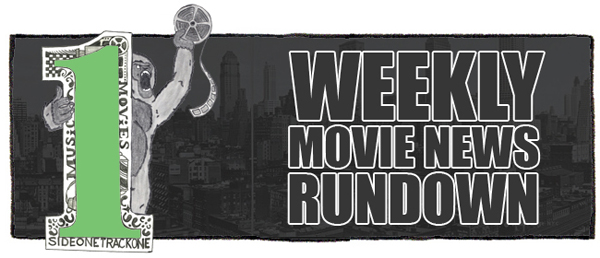 Time for your weekly movie news update!  Below you'll find a slew of sentences meant to provide a brief glimpse of what's been going on over the past week in movieland.  If something leaves you desperate for more info, then my advice is to do a little extra research on one or all of the following fantastic sites:  Latino Review, Dark Horizons, Ain't It Cool News, CHUD and/or JoBlo.  Read on!
Batman VS Superman has been delayed 10 months to "allow the filmmakers time to realize fully their vision, given the complex nature of the story."
Justin Lin (Fast And Furious 3-6) has signed on to direct a remake of Shaolin Temple.
Denis Villeneuve (Prisoners) is set to direct Story Of Your Life.  The sci-fi tale is said to follow a linguist trying to communicate with alien ships that have landed all over the world.
Darren Aronofsky will no longer direct the adaptation of Jason Matthews' book, Red Sparrow.  Negotiations reportedly fell apart.
Thomas Krestchmann (Dracula) has reportedly landed the role of Baron Von Strucker in Avengers: Age Of Ultron.
Michael Douglass has signed on to portray Hank Pym in Ant-Man. Michael Pena is reportedly in talks to be one of the villains.
Johnny Depp is being rumored as Marvel's top choice to star in Doctor Strange.
Oliver Stone has exited the Martin Luther King Jr. biopic due to creative differences.
Microsoft has denied rumors that Ridley Scott is working on a Halo movie.
Sam Worthington and Zoe Saldana have officially signed on for three Avatar sequels.
Nick Nolte has joined the cast of Darren Aronofsky's Noah. He will play the role Samyaza.
Paul Greengrass (Captain Phillips) is in talks to direct an adaptation of David Ignatius' spy book, The Director.
Margot Robbie (The Wolf Of Wall Street) is reportedly close to joining the cast of David Yates' Tarzan as Jane.  The actress may also join the cast of the post-apocalyptic psychological thriller Z For Zachariah.
Elijah Wood's SpectreVision label is set to do a trilogy of movies that will explore the childhood of a serial killer.  The first movie will be titled The Boy.
This Week's Notable Trailers